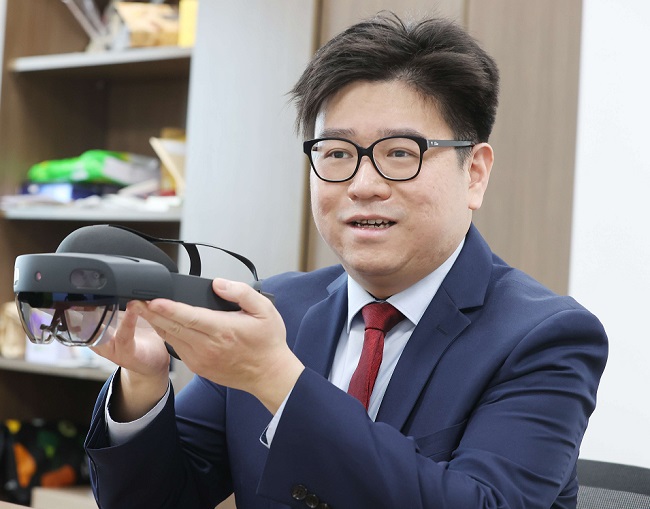 < Professor Lik-Hang Lee >
Professor Lik-Hang Lee from the Department of Industrial System Engineering will offer a metaverse course in partnership with the Hong Kong Productivity Council (HKPC) from the Spring 2022 semester to Hong Kong-based professionals.
"The Metaverse Course for Professionals" aims to nurture world-class talents of the metaverse in response to surging demand for virtual worlds and virtual-physical blended environments. The HKPC's R&D scientists, consultants, software engineers, and related professionals will attend the course. They will receive a professional certificate on managing and developing metaverse skills upon the completion of this intensive course.
The course will provide essential skills and knowledge about the parallel virtual universe and how to leverage digitalization and industrialization in the metaverse era. The course includes comprehensive modules, such as designing and implementing virtual-physical blended environments, metaverse technology and ecosystems, immersive smart cities, token economies, and intelligent industrialization in the metaverse era.
Professor Lee believes in the decades to come that we will see rising numbers of virtual worlds in cyberspace known as the 'Immersive Internet' that will be characterized by high levels of immersiveness, user interactivity, and user-machine collaborations.
"Consumers in virtual worlds will create novel content as well as personalized products and services, becoming as catalyst for 'hyperpersonalization' in the next industrial revolution," he said.
Professor Lee said he will continue offering world-class education related to the metaverse to students in KAIST and professionals from various industrial sectors, as his Augmented Reality and Media Lab will focus on a variety of metaverse topics such as metaverse campuses and industrial metaverses.
The HKPC has worked to address innovative solutions for Hong Kong industries and enterprises since 1967, helping them achieve optimized resource utilization, effectiveness, and cost reduction as well as enhanced productivity and competitiveness in both local and international markets. The HKPC has advocated for facilitating Hong Kong's reindustrialization powered by Industry 4.0 and e-commerce 4.0 with a strong emphasis on R&D, IoT, AI, digital manufacturing.
The Augmented Reality and Media Lab led by Professor Lee will continue its close partnerships with HKPC and its other partners to help build the epicentre of the metaverse in the region. Furthermore, the lab will fully leverage its well-established research niches in user-centric, virtual-physical cyberspace (https://www.lhlee.com/projects-8 ) to serve upcoming projects related to industrial metaverses, which aligns with the departmental focus on smart factories and artificial intelligence.