Undergraduate startup Perigree Aerospace develops suborbital rocket called Blue Whale 0.1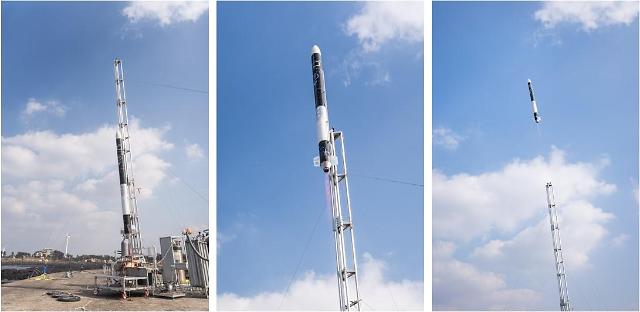 < Undergraduate startup Perigee Aerospace launched a test rocket last month. It was also one of the projects marking the 50th anniversary of KAIST in 2021.) >
On December 29, Perigee Aerospace, an undergraduate startup, launched a test rocket with a length of 3.2 m, a diameter of 19 cm, and a weight of 51 kg, using ethanol and liquid oxygen as fuel. The launch took place off Jeju Island. It was aimed at building experience and checking the combustion of a liquid propulsion engine and the performance of pre-set flight and trajectory, communication, and navigation devices. It was also one of the projects marking the 50th anniversary of KAIST in 2021.
However, after flying for several seconds, the rocket lost its track due to a gust of wind that activated the rocket's automatic flight suspension system. "At the moment the rocket took off, there was a much stronger gust than expected," Dong-Yoon Shin, CEO of Perigee said. "The wind sent it flying off course and the automatic flight suspension system stopped its engine." However, Shin was not disappointed, saying the launch, which was conducted in collaboration with Perigee-KAIST Rocket Research Center provided a good experience.
"Some people say that Blue Whale 0.1 is like a toy because of its small size. Of course, it's much smaller than the rockets I've dreamed of, but like other rockets, it has all the technology needed for launch," said Shin, who established his company in 2018 as a KAIST aerospace engineering student to develop small liquid-propellant orbital rockets. Perigee Aerospace aims to develop the world's lightest launch vehicle using high-powered engines, with a goal of leading the global market for small launch vehicles in the new space generation.
< Startup members of Perigee >
Perigee-KAIST Rocket Research Center was founded in 2019 for the research and development of rocket propellants and has been testing the combustion of rocket engines of various sizes in their liquid propellant rocket combustion lab located on the KAIST Munji Campus.
The research center initiated the 50th anniversary rocket launch project in late April of last year, finished the examination of their preliminary design in late May, and secured a tentative launching site through the KAIST-Jejudo agreement in early July.
The ethanol engine combustion was tested in late July, and an examination meeting regarding the detailed design that took place in late August was followed by two months of static firing tests of the assembled rocket in October and November.
This was a very meaningful trial in which a domestic private enterprise founded by a college student collaborated with a university to successfully develop and launch a technically challenging liquid propellant rocket.
Shin's near-term goal is to launch a two-stage orbital rocket that uses liquid methane as fuel and weighs 1.8 tons. To secure competitiveness in the small projectile market, KAIST and Perigee Aerospace have set up a joint research center to test various rocket engine sizes and develop the world's lightest projectile using a high-performance engine.
Professor Jae-Hung Han, head of the Department of Aerospace Engineering, said, "The scientific rocket system secured through the launch of the celebratory rocket will be utilized for design and system-oriented education, and for carrying out various scientific missions." He added, "It is very rare both domestically and globally that a scientific rocket designed by the initiatives of a department should be incorporated as part of a regular aerospace system design curriculum. This will be an exemplary case we can boast about to the rest of the world."
Perigee Aerospace will improve the technology they have developed through the course of this project to develop subminiature vehicles they may use to launch small satellites into the low Earth orbit.
Shin said, "I am happy just with the fact that we have participated in a rocket project to celebrate the 50th anniversary of KAIST, and I would like to thank the engineers at my company and members of the KAIST Department of Aerospace Engineering." He added, "I'm looking forward to the day that we develop a space launch vehicle that can deliver satellites even higher."