Team KAIST finishes 4th at the inaugural CES Autonomous Racing Competition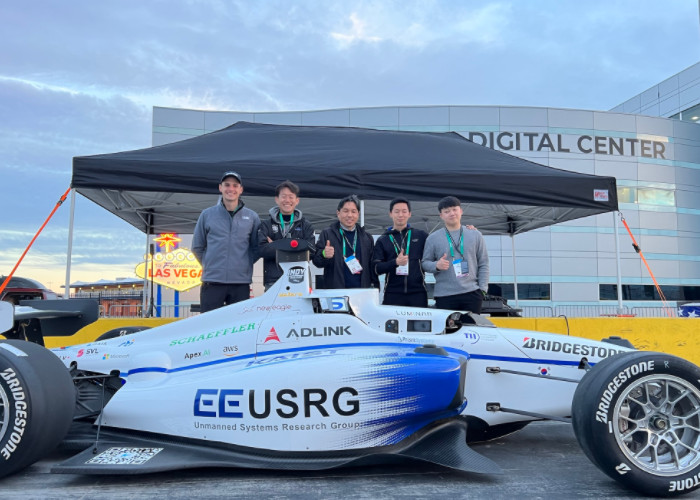 < A self-driving race car with an algorithm designed by Team KAIST speeds up on the track of the Las Vegas Motor Speedway on Jan. 7, 2022. The team finished 4th in the inaugural CES Autonomous Racing Competition >
Team KAIST led by Professor Hyunchul Shim and Unmanned Systems Research Group (USRG) placed fourth in an autonomous race car competition in Las Vegas last week, making its presence felt in the self-driving automotive tech industry.
Team KAIST, beat its first competitor, Auburn University, with speeds of up to 131 mph at the Autonomous Challenge at CES held at the Las Vegas Motor Speedway. However, the team failed to advance to the final round when it lost to PoliMOVE, comprised of the Polytechnic University of Milan and the University of Alabama, the final winner of the $150,000 USD race.
A total of eight teams competed in the self-driving race. The race was conducted as a single elimination tournament consisting of multiple rounds of matches. Two cars took turns playing the role of defender and attacker, and each car attempted to outpace the other until one of them was unable to complete the mission.
Each team designed the algorithm to control its racecar, the Dallara-built AV-21, which can reach a speed of up to 173 mph, and make it safely drive around the track at high speeds without crashing into the other.
The event is the CES version of the Indy Autonomous Challenge, a competition that took place for the first time in October last year to encourage university students from around the world to develop complicated software for autonomous driving and advance relevant technologies. Team KAIST placed 4th at the Indy Autonomous Challenge, which qualified it to participate in this race.
"The technical level of the CES race is much higher than last October's and we had a very tough race. We advanced to the semifinals for two consecutive races. I think our autonomous vehicle technology is proving itself to the world," said Professor Shim.
Professor Shim's research group has been working on the development of autonomous aerial and ground vehicles for the past 12 years. A self-driving car developed by the lab was certified by the South Korean government to run on public roads.
The vehicle the team used cost more than 1 million USD to build. Many of the other teams had to repair their vehicle more than once due to accidents and had to spend a lot on repairs. "We are the only one who did not have any accidents, and this is a testament to our technological prowess," said Professor Shim.
He said the financial funding to purchase pricy parts and equipment for the racecar is always a challenge given the very tight research budget and absence of corporate sponsorships.
However, Professor Shim and his research group plan to participate in the next race in September and in the 2023 CES race.
"I think we need more systemic and proactive research and support systems to earn better results but there is nothing better than the group of passionate students who are taking part in this project with us," Shim added.