Professor Hyunchul Shim's autonomous driving team topped the challenge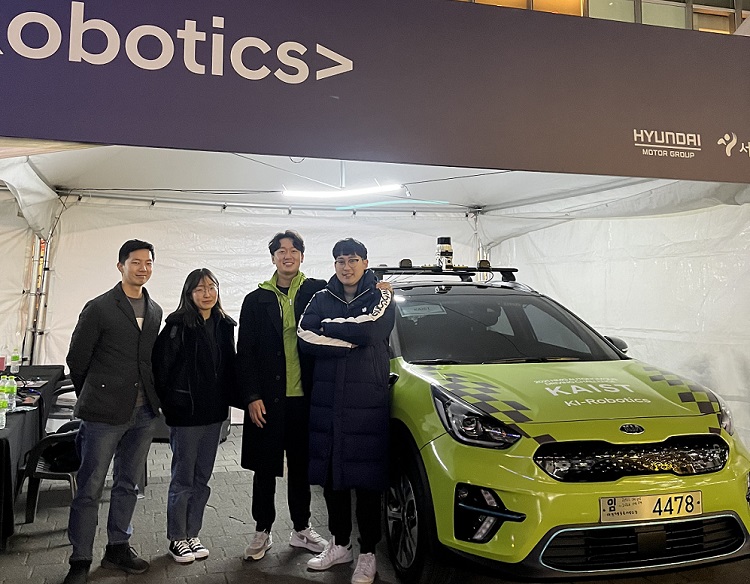 < PhD candidate in electrical engineering Hyun-Ki Sung, Master candidate in robotics, PhD candidate in electrical engineering Dae-Gyu Lee who is the team leader of KI-Robotics, and Master candidate in robotics Seung-Il Han (from left). >
KI-Robotics, a KAIST autonomous driving research team led by Professor Hyunchul Shim from the School of Electric Engineering won the 2021 Hyundai Motor Autonomous Driving Challenge held in Seoul on November 29. The KI-Robotics team received 100 million won in prize money and a field trip to the US.
Out of total 23 teams, the six teams competed in the finals by simultaneously driving through a 4km section within the test operation region, where other traffic was constrained. The challenge included avoiding and overtaking vehicles, crossing intersections, and keeping to traffic laws including traffic lights, lanes, speed limit, and school zones. The contestants were ranked by their order of course completion, but points were deducted every time they violated a traffic rule. A driver and an invigilator rode in each car in case of an emergency, and the race was broadcasted live on a large screen on stage and via YouTube.
In the first round, KI-Robotics came in first with a score of 11 minutes and 27 seconds after a tight race with Incheon University. Although the team's result in the second round exceeded 16 minutes due to traffic conditions like traffic lights, the 11 minutes and 27 seconds ultimately ranked first out of the six universities. It is worth noting that KI-Robotics focused on its vehicle's perception and judgement rather than speed when building its algorithm. Out of the six universities that made it to the final round, KI-Robotics was the only team that excluded GPS from the vehicle to minimize its risk.
The team considered the fact that GPS signals are not accurate in urban settings, meaning location errors can cause problems while driving. As an alternative, the team added three radar sensors and cameras in the front and the back of the vehicle. They also used the urban-specific SLAM technology they developed to construct a precise map and were more successful in location determination.
As opposed to other teams that focused on speed, the KAIST team also developed overtaking route construction technology, taking into consideration the locations of surrounding cars, which gave them an advantage in responding to obstacles while keeping to real urban traffic rules. Through this, the KAIST team could score highest in rounds one and two combined.
Professor Shim said, "I am very glad that the autonomous driving technology our research team has been developing over the last ten years has borne fruit. I would like to thank the leader, Daegyu Lee, and all the students that participated in the development, as they did more than their best under difficult conditions."
Dae-Gyu Lee, the leader of KI-Robotics and a Ph.D. candidate in the School of Electrical Engineering, explained, "Since we came in fourth in the preliminary round, we were further behind than we expected. But we were able to overtake the cars ahead of us and shorten our record."