"We felt a sense of responsibility to help the nation advance its semiconductor design technology"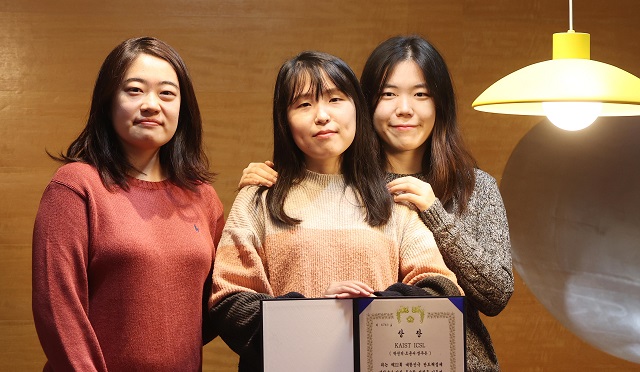 < PhD candidates at the School of Electrical Engineering Yoon-Seo Cho, Sun-Eui Park, and Ju-Eun Bang (from left) >
A CMOS (complementary metal-oxide semiconductor)-based "ultra-low noise signal chip" for 6G communications designed by three PhD candidates at the KAIST School of Electrical Engineering won the Presidential Award at the 22nd Korea Semiconductor Design Contest.
The winners are PhD candidates Sun-Eui Park, Yoon-Seo Cho, and Ju-Eun Bang from the Integrated Circuits and System Lab run by Professor Jaehyouk Choi. The contest, which is hosted by the Ministry of Trade, Industry and Energy and the Korea Semiconductors Industry Association, is one of the top national semiconductor design contests for college students.
Park said the team felt a sense of responsibility to help advance semiconductor design technology in Korea when deciding to participate the contest. The team expressed deep gratitude to Professor Choi for guiding their research on 6G communications.
"Our colleagues from other labs and seniors who already graduated helped us a great deal, so we owe them a lot," explained Park. Cho added that their hard work finally got recognized and that acknowledgement pushes her to move forward with her research. Meanwhile, Bang said she is delighted to see that many people seem to be interested in her research topic.
Research for 6G is attempting to reach 1 tera bps (Tbps), 50 times faster than 5G communications with transmission speeds of up to 20 gigabytes. In general, the wider the communication frequency band, the higher the data transmission speed. Thus, the use of frequency bands above 100 gigahertz is essential for delivering high data transmission speeds for 6G communications.
However, it remains a big challenge to make a precise benchmark signal that can be used as a carrier wave in a high frequency band. Despite the advantages of CMOS's ultra-small and low-power design, it still has limitations at high frequency bands and its operating frequency. Thus, it was difficult to achieve a frequency band above 100 gigahertz.
To overcome these challenges, the three students introduced ultra-low noise signal generation technology that can support high-order modulation technologies. This technology is expected to contribute to increasing the price competitiveness and density of 6G communication chips that will be used in the future.
5G just got started in 2020 and still has long way to go for full commercialization. Nevertheless, many researchers have started preparing for 6G technology, targeting 2030 since a new cellular communication appears in every other decade.
Professor Choi said, "Generating ultra-high frequency signals in bands above 100 GHz with highly accurate timing is one of the key technologies for implementing 6G communication hardware. Our research is significant for the development of the world's first semiconductor chip that will use the CMOS process to achieve noise performance of less than 80fs in a frequency band above 100 GHz."
The team members plan to work as circuit designers in Korean semiconductor companies after graduation. "We will continue to research the development of signal generators on the topic of award-winning 6G. We would like to continue our research on high-speed circuit designs such as ultra-fast analog-to-digital converters," Park added.