Global healthcare and humanitarian activist honored by the Grand Award for Future Strategy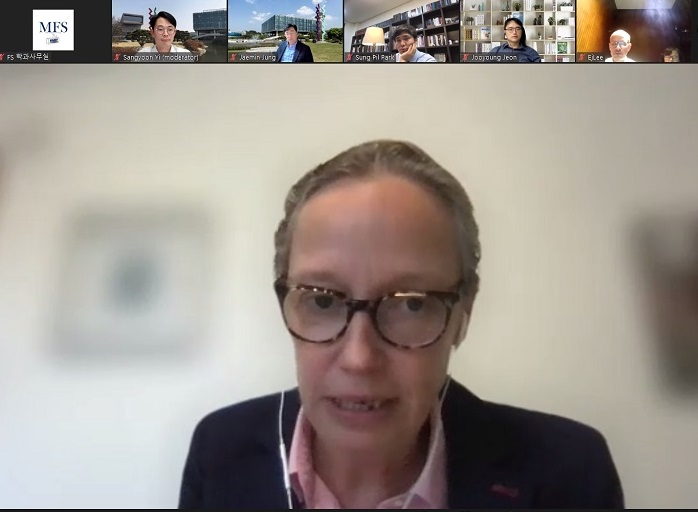 < Marien Buissoniere, recipient of the 9th Grand Award for Future Strategy speaks during the award ceremony online on November 5. >
The Moon Soul Graduate School of Future Strategy awarded the 9th Grand Award for Future Strategy to Marine Buissonniere, an independent advisor and practitioner in the fields of global health and humanitarian action. She currently works as a senior advisor to the Prevent Epidemics team at Resolve to Save Lives. She also co-chairs Doctors Without Borders' Transformational Investment Capacity.
Buissonniere was recognized for designing and implementing global response strategies in global strife and disaster stricken areas over the 25 years while serving as secretary general of Doctors Without Borders. She has been working with various government agencies around the world including Resolve to Save Lives to respond to the Covid-19 pandemic and preparing global future strategies for the post-pandemic era.
The Grand Award for Future Strategy recognizes individual and organization who have contributed to the nation and humanity through future research and strategies in the fields of science and technology, economy and industry, society and culture, politics and governance, and resources and environment.
The selection committee place particular emphasis on her humanitarian efforts toward North Korea. She was in charge of the task force for resuming the health project in North Korea and facilitated the North Korean program in 2002. She also played a significant role in raising awareness of North Korea's humanitarian issues in the international community by lecturing at Columbia and Princeton.
Buissonniere said during the awards ceremony held online on November 5, "I am very grateful to receive this award from KAIST, a world's top-flight university as well as from South Korea related to the Korean Peninsula and North Korea, where I have spent most of my life. What makes this award even more special is it is about the international medical relief activities and system innovations that I've devoted my life to over the last 25 years. I am going to continue this journey to help many people in difficult situations. Eventually, I would like to make it possible for those people in need to make their own future by themselves."