The Office of Immigration Service in Daejeon will dispatch On-Site Immigration Service Team at the campus once a week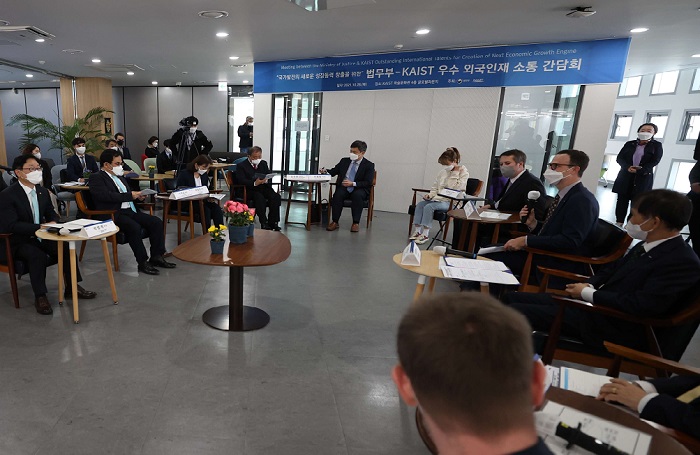 < Minister of Justice Beom Kye Park met with international students and faculty members on October 29 at the campus to discuss immigration difficulties. >
Minister of Justice Beom Kye Park met with international students and faculty members on October 29 at the KAIST campus and promised the government's prompt and flexible revision of the process for acquiring legal residency and Korean citizenship for talents in the fields of science and technology.
During the meeting to discuss immigration difficulties with foreign students, researchers, and faculty at KAIST, many KAIST international students expressed their wishes to continue their research in Korea after graduation and asked for legal support to acquire permanent residence status.
International faculty members including PhD and Master's candidate and postdoc fellows attended the meeting along with KAIST President Kwang Hyung Lee and Assistant Vice President of the International Office Scott Knowles.
Currently, there are 1,100 international members on campus: 421 undergraduates, 236 Master's student, 266 PhD candidates, 79 researchers, and 67 faculty members.
President Lee said, "It is prerequisite to nurture the outstanding talents who earned their degrees in Korea for raising our national competitiveness. We would like to ask the government to ease the current system to embrace those excellent talents. That will definitely be necessary for securing new talents as well as for invigorating the domestic industry and R&D sector, which will lead to attracting the next excellent groups of talented students from abroad."
Minister Park said that the government now needs more inclusive immigration policies granting legal residency and citizenship to the highly talented group. He added that the ministry will make every effort to help our degree holders acquire the relevant legal status to settle down here.
Meanwhile, the Office of Immigration Services in Daejeon set up the 'On-Site Immigration Service' at the campus and provided one-on-one consultation services for KAIST international community regarding extension of stays and alien registration affairs.
The On-Site Immigration Service will continue at the campus once a week for convenience of KAIST international community in the very near future.