The forum stresses global collaboration to make the global value chain more resilient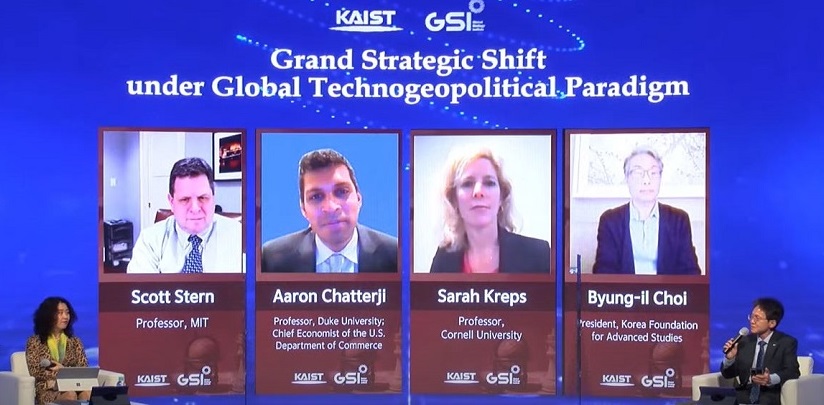 < Director So Young Kim at the Korea Policy Center for the 4IR (far left) facilitates the first session. Vice President for Planning and Budget Bowon Kim (far right) participated the session as the discussant. >
Speakers at the 5th Global Strategy Institute International Forum on October 28 stressed the importance of global collaboration for rebuilding the global economy and making innovations in national science and technology governance in order to enhance national competitiveness. The forum entitled "Grand Strategic Shift under Global Techno-Geopolitical Paradigm" examined strategies for making the global supply chain more resilient and rebuild the global economy as well as how Korea could advance in the technology race.
Speakers concurred that technology has become an issue of national security. The global supply chain has been disrupted amid the global pandemic and intense conflict between the U.S. and China. Speakers presented a common solution: global collaboration and innovations in science and technology governance.
KAIST President Kwang Hyung Lee said in his opening remarks that the future 'world map' may turn out very differently depending on how we prepare and what we envision for the future. He also stressed the importance of technology sovereignty, adding that only those who can create their own new technology independently will be the future leaders.
Prime Minister Boo Kyum Kim and Vice Minister of Science and ICT Hongtaek Yong delivered congratulatory remarks. Keynote speakers included Professor Scott Stern from the MIT Sloan School of Management, Professor Aaron Chatterji from the Fuqua School of Business at Duke University, Professor Sarah Kreps from the Department of Government at Cornell University, SK Group Chairperson Tae-Won Chey, President Woo Il Lee of the Korean Federation of Science and Technology Societies, Professor Young Kwan Yoon at Seoul National University, President Eun Mee Kim of Ewha Womans University, and President Ieehwan Kim of the University of Science and Technology.
During the first session, Professor Chatterji stressed that how to make supply chains resilience will be the key for making long-term strategy with relevant government policy. He said that AI has become a general purpose technology (GPT) and Korea ranked 4th in AI innovation in the world, but how to translate this innovativeness into national strategic leadership will be a new challenge for Korea. He suggested that Korea strengthen its strategic partnerships with allies such as the U.S. and provide opportunities not only for established players but start-ups and entrepreneurs. Meanwhile, Professor Kreps said that industrial policy should also leverage trust and innovations for building technology alliances with a more longer-term approach, without antagonizing certain groups of nations.
Vice President for Planning and Budget Bowon Kim who joined the forum as a discussant pointed out that in this hyper-connected era, nothing can be manufactured in a single company and country without the global supply chain. "In longer-term policy and strategies, we should embrace China as a global economy partner and include all nations around the world."
Chairman Chey from SK said that the clear role among universities, industry, and the government doesn't exist any longer. Now, universities are working hard for the commercialization of technology from their labs. Industry is nurturing the talents inept for future industry, and the government is trying to introduce a more private-sector approach. As such, universities, the government, and industry should embrace all-inclusive approaches encompassing global politics and trade to lead on the global stage.
Meanwhile in the second session, all of the speakers stressed innovation in science and technology governance in order to adopt to the new industrial paradigm. They agreed to make prompt innovations and solid collaborative systems among the government ministries to ensure national competitiveness, especially in the field of science and technology.
President Lee from KOFST said Korea should adopt a first mover strategy and the government should adopt a mission-oriented projects and deregulate more. He pointed out that when mandating more autonomy in decision making, scientists and students can make more creative outcomes.
Professor Yoon at SNU stressed the close alliance with the U.S. in the technology race, but suggested that Korea should also seek ways to help minimize the technology gap between advanced and developing countries. Universities should also be allowed more autonomy in running creative curriculum and academic affairs to in order boost the competitiveness of science and technology.
President Kim from Ewha pointed out the role of education as a public good. In some countries, strengthening science and technology can be accomplished with wider educational opportunities in middle and high schools. President Kim also stressed expanding strategic partnerships. She said Korea should expand its alliances and partnerships, not only with the U.S. but with European countries and other niche countries where certain technologies are superior.
President Kim of UST stressed a new science and technology leadership is required to build technology sovereignty and the government should spearhead the deregulations of the government policy.
This GSI forum was co-hosted by two think-tanks at KAIST, the Korea Policy Center for the Fourth Industrial Revolution (KPC4IR) and the Innovation Strategy and Policy Institute (ISPI).