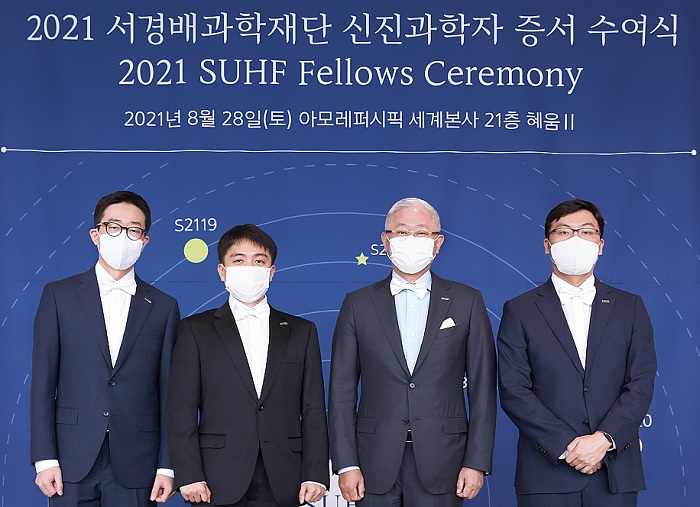 < From left: Professor Ku, Professor Yang, Chairman Suh, and Professor Yang from SNU. >
Professor Taeyun Ku from the Graduate School of Medical Science and Engineering and Professor Hanseul Yang from the Department of Biological Sciences were nominated as 2021 fellows of the Suh Kyungbae Foundation (SUHF).
SUHF selected three young promising scientists from 53 researchers who are less than five years into their careers. A panel of judges comprised of scholars from home and abroad made the final selection based on the candidates' innovativeness and power to influence. Professor You-Bong Hyun from Seoul National University also won the fellowship.
Professor Ku's main topic is opto-connectomics. He will study ways to visualize the complex brain network using innovative technology that transforms neurons into optical elements.
Professor Yang will research the possibility of helping patients recover from skin diseases or injuries without scars by studying spiny mouse genes.
SUHF was established by Amorepacific Group Chairman Suh Kyungbae in 2016 with 300 billion KRW of his private funds. Under the vision of 'contributing to humanity by supporting innovative discoveries of bioscience researchers,' the foundation supports promising Korean scientists who pioneer new fields of research in biological sciences.
From 2017 to this year, SUHF has selected 20 promising scientists in the field of biological sciences. Selected scientists are provided with up to KRW 500 million each year for five years. The foundation has provided a total of KRW 48.5 billion in research funds to date.