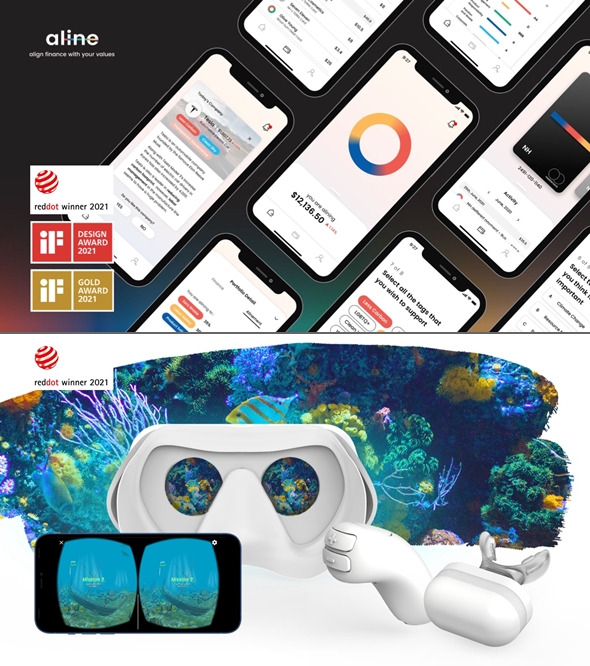 'Aline' and 'Blow-yancy' developed by Professor Sang Su Lee's team at the Department of Industrial Design won the Red Dot Design Awards in Brand & Communications Design. Aline is a mobile investment portfolio application used in the NH Investment & Securities Co. Blow-yancy is a suva diving VR device for neutral buoyancy training.Professor Lee sought 'sustainability' while developing Aline to meet the growing awareness of ESG (environmental, social, and governance) investing. ESG investing relies on independent ratings that help consumers assess a company's behavior and policies when it comes to its social impact.
Aline's personal value index with six main criteria translates values into sustainable finance. By gathering data from the initial survey and regular value updates, the index is weighted according to the user's values. Based on the index, the investment portfolio will be adjusted, and consumption against the values will be tracked.
Blow-yancy is a diving VR device for neutral buoyancy training. Blow-yancy's VR mask helps divers feel like they are wearing an actual diving mask. Users can breathe through a regulator with a built-in breathing sensor. It allows training like actual diving without going into the water, therefore enabling safer diving.
"We got an idea that about 74% of scuba divers come into contact with corals underwater at least once and that can cause an emergency situation. Divers who cannot maintain neutral buoyance will experience a tough time avoiding them," said Professor Lee.
The hardware consists of a nose covering VR mask, a regulator with a built-in breath sensor, and a controller for virtual BCD control. Blow-yancy's five virtual missions were organized according to the diving process required by PADI, a professional diving education institute.
Professor Lee's team already received eight recognitions at the iF Design Award in April. Professor Lee said, "We will continue to develop the best UX design items that will improve our global recognition."