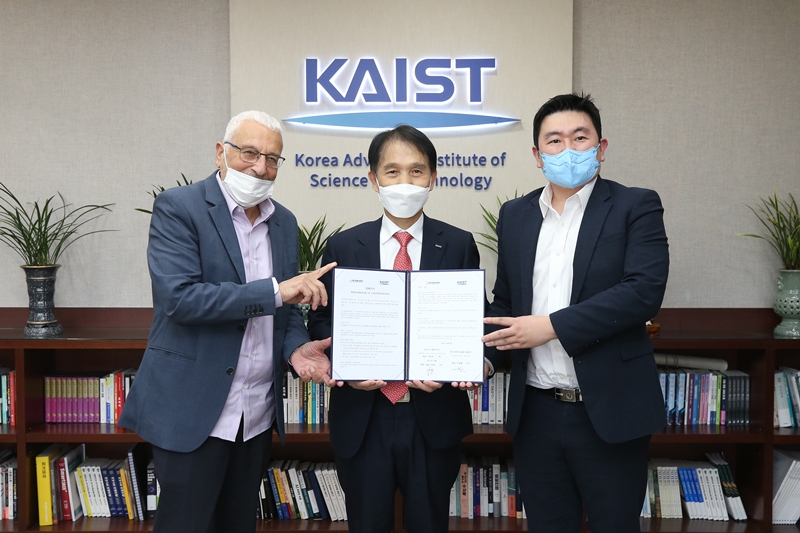 < Founder and Chairman Yigal Erlich (left), President Kwang Hyung Lee, and Head of Asia Pacific Won-Jae Lee (right) >
KAIST has joined hands with Israeli venture capital investor Yozma Group to help campus-based startups grow and build success. The two signed a memorandum of understanding (MOU) on joint technology value creation initiatives at the signing ceremony that was held at KAIST's main campus in Daejeon on April 8.
Under the MOU, Yozma Group will make investments and implement acceleration programs for startups established by KAIST professors, graduates, and students, as well as those invested in by the university.
Yozma Group already launched a $70 million fund to help grow companies in Korea and Israel. Yozma Group will use the fund as well as its global acceleration know-how and network of over 400 R&D centers across Israel to help promising KAIST startups enter overseas markets.
Moreover, Yozma Group also plans to discover and support KAIST startups that need technology from the Weizmann Institute of Science, Israel's leading multidisciplinary basic research institution in natural and exact sciences.
KAIST is also in talks to locate Yozma Group's branch office on the university's campus to ensure seamless collaborations.
KAIST President Kwang Hyung Lee explained to Yozma Group's Founder and Chairman Yigal Erlich and Head of Asia Pacific Won-Jae Lee at the MOU signing ceremony that "startup and technology commercialization are the crucial areas where KAIST will make innovations."
"Cooperation with Yozma Group will help KAIST startups transform their ideas and technologies into real businesses and build a global presence," he added.
Yozma Group started as Yozma Fund, created in conjunction with the Israeli government in 1993 to support the globalization of Israeli startups and to foster the growth of Israel's venture capital industry. The Fund, which was privatized in 1998, has supported 97 Israeli tech ventures joining the Nasdaq, leading Israel to become a global innovation hub that has the third-most companies listed on the Nasdaq.
(END)