COVID-19 Task Force responds 24-7 and ISSS provides returning international students with a comfort package during 14-day mandatory quarantine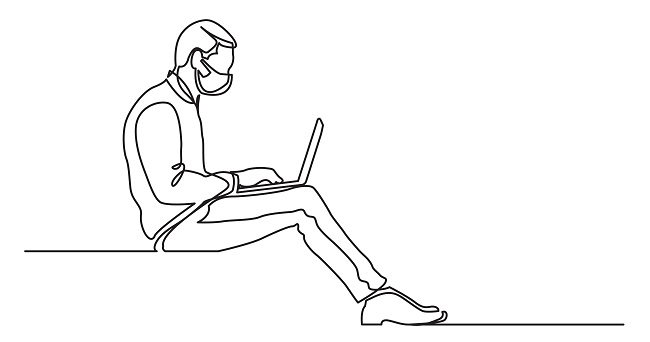 In response to the upsurge of COVID-19 cases in the proximate college districts in Daejeon, KAIST announced the enforcement of stricter health and safety regulations. Korean health authorities expected another surge of COVID-19 cases this spring as Korea's daily new COVID-19 cases have rebounded to the high 600s and over 700 in April, which is the most in over three months.
New guidelines issued on April 5 banned faculty, staff, and students from engaging in off-campus activities and utilizing external public facilities. Such facilities include, but are not limited to, bars, cafes, clubs, gyms, karaoke rooms, PC rooms, restaurants, and other crowded indoor spaces. All class and research activities, work meetings, and school events were moved exclusively online, and working from home and flexible working hours were highly encouraged in order to minimize face-to-face interactions on campus. In particular, having meals outside of KAIST cafeterias in groups of two or more was prohibited, while food delivery and take-outs were allowed.
Executive Vice President and Provost Seung Seob Lee said in a letter to the KAIST community on April 5 that "the school considers the risk of the current situation to be very high, likely the highest since the outbreak of COVID-19." Provost Lee then called for more team efforts to contain the current phase of the pandemic and asked everyone to do their part.
The school installed new temperature scanners equipped with hand sanitizer dispensers in front of the dormitory entrances to further control the spread of the disease on campus, following confirmed COVID-19 cases among dormitory residents.
As the COVID-19 pandemic continues with no clear end in sight, the Task Force for the Prevention of COVID-19 and the International Scholar and Student Services (ISSS) Team at KAIST are working around the clock to reduce the risk of infection spread not only within the campus, but also coming from outside the campus.
Under strict health and safety guidelines, KAIST has allowed international students to come back to campus. Currently about 600 international students, mostly graduate students reside on campus. All returning students should complete the mandatory 14-day self-quarantine required by the Korean government at their own expense.
The KAIST COVID-19 Task Force is in charge of enacting on-campus health and safety guidelines, responding to reports and inquiries from the KAIST community 24-7, and controlling outsider access, among other responsibilities.
The ISSS Team requires returning international students to fill out an entry authorization form and receive approval from the KAIST COVID-19 Task Force prior to returning to campus from their home countries. Once students arrive at their designated quarantine facility, the KAIST ISSS Team sends care packages, which includes some toiletries, instant food, a multipot, a thermometer, and other daily necessities. During the quarantine period, returning students are also advised to follow the directions given by government officials and to coordinate with the ISSS Team. The team also provides useful Korean phrases for international students to help them with communication.
The self-quarantine period ends at 12 p.m. 14 days after arrival. Within two days of finishing the 14 days of self-isolation, these students are required to undergo a polymerase chain reaction (PCR) test for COVID-19 at the nearest health center. After confirmed negative, they are allowed to move into on-campus accommodations. KAIST will maintain the current method of remote education and distancing methods until further notice.
(END)