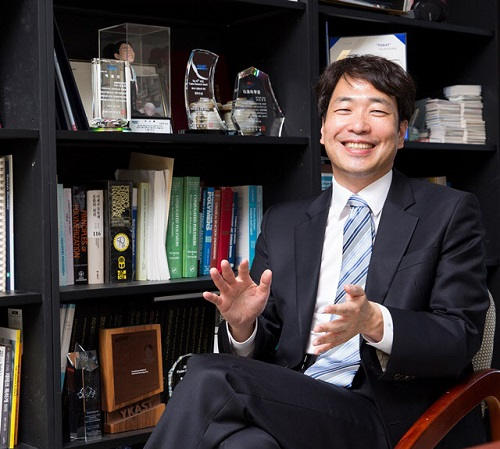 < Professor Bumjoon Kim >
Professor Bumjoon Kim from the Department of Chemical and Biomolecular Engineering won January's Scientist of the Month Award presented by the Ministry of Science and ICT (MSIT) and the National Research Foundation of Korea (NRF) on January 6. Professor Kim also received 10 million won in prize money.
Professor Kim was recognized for his research in the field of fuel cells. Since the first paper on fuel cells was published in 1839 by the German chemist Friedrich Schonbein, there has been an increase in the number of fields in which fuel cells are used, including national defense, aerospace engineering, and autonomous vehicles.
Professor Kim developed carbonized block copolymer particles with high durability and a high-performance fuel cell. Block copolymers are two different polymers cross-linked into a chain structure. Various nanostructures can be made effectively by using the attractive and repulsive forces between the chains.
Professor Kim used the membrane emulsification technique, employing a high-performance separation membrane to develop a platform that makes the mass production of highly durable carbonized particles possible, which he then used to develop high-performance energy devices like fuel cells.
The carbonized particles designed by Professor Kim and his research team were used to create the world's more durable fuel cells that boast outstanding performance while using only five percent of the costly platinum needed for existing commercialized products.
The team's research results were published in the Journal of the American Chemical Society and Energy Environmental Science in May and July of last year.
"We have developed a fuel cell that ticks all the boxes including performance, durability, and cost," said Professor Kim. "Related techniques will not be limited to fuel cells, but could also be applied to the development of various energy devices like solar cells and secondary cells," he added.
(END)