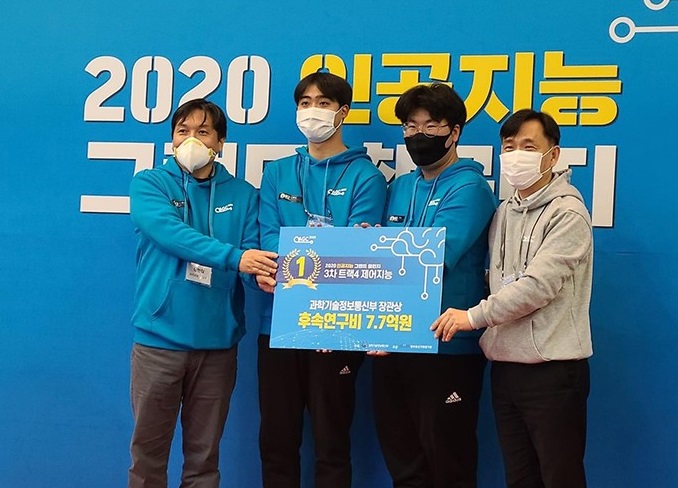 < Team USRG won the AI Grand Challenge 2020 for the second consecutive year. >
Team USRG (Unmanned Systems Research Group) led by Professor Hyunchul Shim from the School of Electrical Engineering has won the AI Grand Challenge 2020 held on Nov. 23 at Kintex in Ilsan, Kyonggi-do for the second consecutive year. The team received 7.7 million KRW in research funding from the Ministry of Science and ICT, the organizer of the challenge.
The team took a little over two minutes to complete the rescue operation mission of the challenge. The mission included swerving around seven obstacles, airdropping an aid package, and safely landing after identifying the landing spot. Their drone is the only one that successfully passed through a 10-meter tunnel out of five pre-qualified teams: three from universities and two from companies.
The AI Grand Challenge, which began in 2017, was designed to promote AI technology and its applications for addressing high-risk technical challenges, especially for conducting complex disaster relief operations.
For autonomous flying drones, swerving to avoid objects has always been an essential skill and a big challenge. For their flawless performance in the rescue operation, the team loaded an AI algorithm and upgraded their drone by improving the LiDAR-based localization system and a stronger propulsion system to carry more sensors. The drone weighs 2.4 kg and carries a small yet powerful computer with a GPU.
This AI-powered drone can complete rescue missions more efficiently in complicated and disastrous environments by precisely comprehending where the drone should go without needing GPS. The team also designed an all-in-one prop guard and installed a gripper onto the bottom of the drone to hold the aid package securely.
"We tried hard to improve our localization system better to resolve issues we had in the previous event," said Professor Shim. Two PhD candidates, Han-Sob Lee and Bo-Sung Kim played a critical role in developing this drone.
After their two-year winning streak, their prize money now totals 2.4 billion KRW, equivalent to the winning prize of the DARPA Challenge. As the winning team, they will collaborate with other champions at the AI track challenge to develop rescue mission technology for a more complex environment.
"The importance of AI technology is continuing to grow and the government is providing large amounts of funding for research in this field. We would like to develop very competitive technology that will work in the real world," Professor Shim added.
His group is investigating a wide array of AI technologies applicable to unmanned vehicles including indoor flying drones, self-driving cars, delivery robots, and a tram that circles the campus.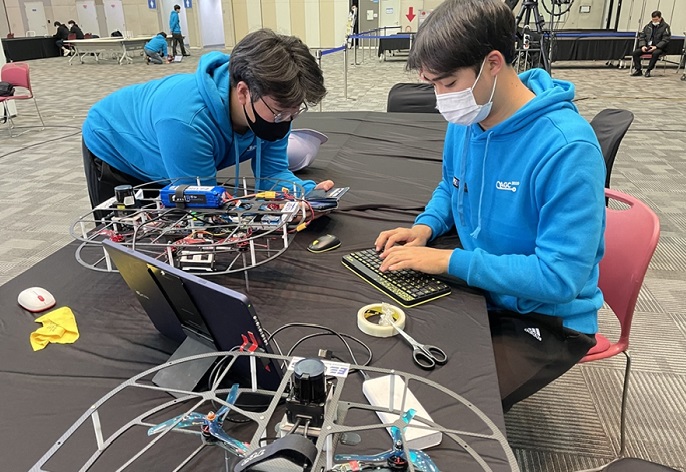 < Two PhD candidates, Han-Sob Lee and Bo-Sung Kim make a final touch for the competition. >