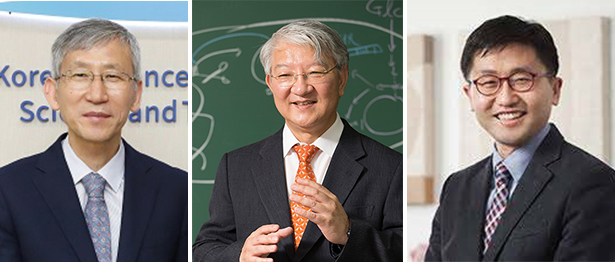 < Distinguished Professor Chang, Distinguished Professor Lee, and Professor Eom (from left) >
Distinguished Professor Sukbok Chang from the Department of Chemistry, Distinguished Professor Sang-Yup Lee from the Department of Chemical & Biomolecular Engineering, and Professor Jiyong Eom from the College of Business were named to Clarivate's Highly Cited Researchers 2020 list.
Clarivate announced the researchers who rank in the top 1% of citations by field and publication year in the Web of Science citation index. A total of 6,167 researchers from more than 60 countries were listed this year and 37 Korean scholars made the list.
The methodology that determines the "Who's Who" of influential researchers draws on data and analyses performed by bibliometric experts and data scientists at the Institute for Scientific Information at Clarivate. It also uses the tallies to identify the countries and research institutions where these scientific elite are based. More than 6,000 researchers from 21 fields in the sciences, social sciences, and cross field categories were selected based on the number of highly cited papers they produced over an 11-year period from January 2009 to December 2019.
Professor Chang made the list six years in a row, while Professor Lee made it for four consecutive years, and Professor Eom for the last two years. Professor Chang's group (http://sbchang.kaist.ac.kr) investigates catalytic hydrocarbon functionalization. Professor Lee (http://mbel.kaist.ac.kr) is a pioneering scholar in the field of metabolic engineering, systems, and synthetic biology. Professor Eom's (https://kaistceps.quv.kr) research extends to energy and environmental economics and management, energy big data, and green information systems.