Pioneering geotechnical engineer Dong-Soo Kim dies at 59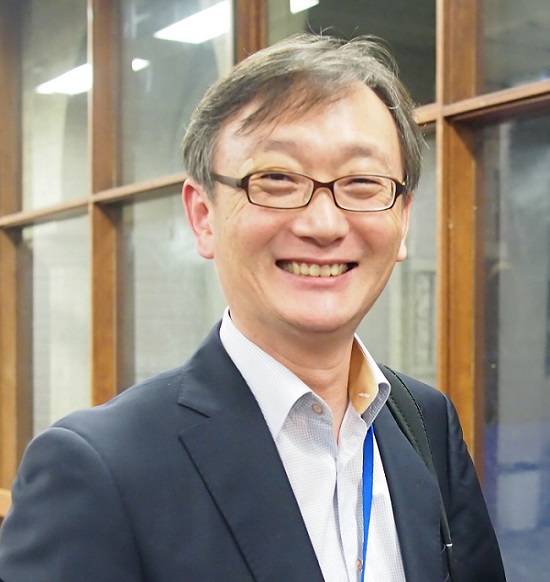 < The late Professor Dong-Soo Kim at the Department of Civil and Environmental Engineering. >
The Department of Civil and Environmental Engineering lost a pioneering scholar in geotechnical engineering, Professor Dong-Soo Kim. Professor Kim died on November 3, after a one-and-a-half-year battle with a brain tumor. He was 59.
Known for his piercing insight and infectious enthusiasm for the deepest questions in geotechnical science and engineering, Professor Kim built an extraordinary academic career while working at KAIST for 26 years. Professor Kim paved the way for establishing the geo-centrifuge experiment facilities at KAIST as part of the KOCED (Korea Construction Engineering Development Collaboratory Management Institute) Projects funded by the Ministry of Land, Infrastructure and Transport. He also served as director of the KOCED Geo-Centrifuge Center.
"He made significant contributions to the growth of the department since his joining and he was at the forefront of the globalization of the department. He passed away so early leaving behind so many projects," lamented Professor Emeritus Chung-Bang Yun.
"Professor Kim insisted on lecturing despite his serious illness. He wanted to play his part so gracefully for his students until his last days," said Professor Hyo-Gyong Kwak, the head of the department who was also a close colleague of 25 years. "His captivating warm smile and unwavering mentorship and guidance will be missed by students and faculty alike. We lost an exemplary leader, mentor, colleague, and friend." One of his colleagues, Professor Gye-Chun Cho said, "We have lost a great professor and colleague in civil engineering worldwide. His impact and legacy will be remembered forever."
Joining the KAIST faculty in 1994, he began his academic career at the Polytechnique University, New York for three years after earning his PhD at the University of Texas at Austin in 1991. He finished his BS and MS at Seoul National University in 1983 and 1985 respectively.
While at KAIST, he led the Soil Dynamics Lab in 1994 and researched on site characterization via field and lab tests. He also conducted geotechnical centrifuge tests on earthquake and offshore geotechnical problems. His research team studied the seismic design of geotechnical structures and explored the non-destructive testing and evaluation of civil structures.
Professor Kim made profound contributions to understanding fundamental geotechnical engineering problems. More recently, his lab investigated physical modeling using the geo-centrifuge testing machine that could simulate field geotechnical problems on small-scale models. Professor Kim's perseverance, deep curiosity, and enthusiasm for discovery served him well in his roles as a teacher, mentor, and colleague in the department and beyond. "I thought of him as an elder brother who fully understand everything with generous mind," said Professor Haeng-Ki Lee, former head of the department.
"I will never forget the hiking trip to Halla Mountain in Jeju last summer. He continuously cheered on the junior professors. Without him, we could not have made it to the summit. His support and encouragement always led us to produce good results and achievement in the labs," remembered Professor Youngchul Kim. Taking great delight in helping young scientists, he inspired colleagues and students to find their own eureka moments. To professors like Jong-In Han and Ayoung Kim, he was the role model they hope to be due to his rigorous scholarship and generous character. Upon his passing, Professor Jaewook Myung reviewed all the emails he and Professor Kim has sent starting from his undergraduate days at KAIST. "He was my guiding light. He always listened attentively to my struggles from my undergraduate days and advised me very warmly."
Professor Kim was also known for his key role in the Korean Geotechnical Society. His unmatched leadership led him to serve as the Chair of the Organizing Committee for the 19th International Conference on Soil Mechanics and Geotechnical Engineering in Seoul in 2017. He was the General Secretary of the 5th International Symposium on Deformation Characteristics of Geomaterials. He also served as a chair of the ISSSMGE TC 104 committee.
Professor Kim successfully carried out numerous projects with his research team and supervised more than 60 graduate students. For current students under his supervision, it is still tough to acknowledge the loss of their professor.
Master candidate Yeonjun Kim feels lost moving forward. PhD candidate Junsik Bae said that it is like a bad dream and he feels Professor Kim will still be in his lab whenever he goes inside. One of the staff members who worked with him, Byeol-Nim Cha, remembered that Professor Kim always entered the office with a big smile. "He always asked me how I am doing," Cha added.
Professor Kim's trailblazing research was recognized with several awards and honors. Cited as a Top 100 Scientist by the International Biographical Center (IBC) in 2008, Professor Kim received the Young Presidential Research Award from the Korean Academy of Science and Technology in 2002, the Korean Presidential Award on Civil Engineer's Day in 2011, and the Telford Premium Rewards in 2018. Throughout his career, he authored or co-authored 321 papers in international journals and conference proceedings, and 278 papers in domestic journals and conferences.
President of the Korean Geotechnical Society Choong-gi Chung also eulogized him, "Above his impressive professional contributions, Professor Kim will be remembered forever for his generosity, simplicity, playfulness, and his smile."
Professor Kim is survived by his wife, son, and daughter.