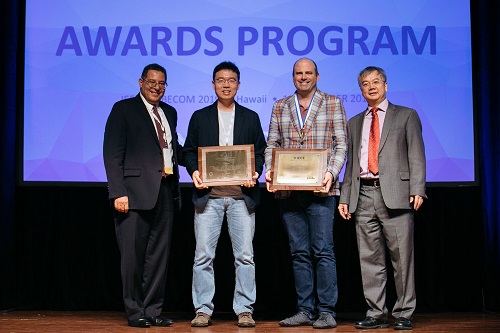 < Professor Junil Choi (second from the left) >

Professor Junil Choi from the School of Electrical Engineering received the Stephen O. Rice Prize at the Global Communications Conference (GLOBECOM) hosted by the Institute of Electrical and Electronics Engineers (IEEE) in Hawaii on December 10, 2019.
The Stephen O. Rice Prize is awarded to only one paper of exceptional merit every year. The IEEE Communications Society evaluates all papers published in the IEEE Transactions on Communications journal within the last three years, and marks each paper by aggregating its scores on originality, the number of citations, impact, and peer evaluation.
Professor Choi won the prize for his research on one-bit analog-to-digital converters (ADCs) for multiuser massive multiple-input and multiple-output (MIMO) antenna systems published in 2016. In his paper, Professor Choi proposed a technology that can drastically reduce the power consumption of the multiuser massive MIMO antenna systems, which are the core technology for 5G and future wireless communication. Professor Choi's paper has been cited more than 230 times in various academic journals and conference papers since its publication, and multiple follow-up studies are actively ongoing.
In 2015, Professor Choi received the IEEE Signal Processing Society Best Paper Award, an award equals to the Stephen O. Rice Prize. He was also selected as the winner of the 15th Haedong Young Engineering Researcher Award presented by the Korean Institute of Communications and Information Sciences (KICS) on December 6, 2019 for his outstanding academic achievements, including 34 international journal publications and 26 US patent registrations.
(END)