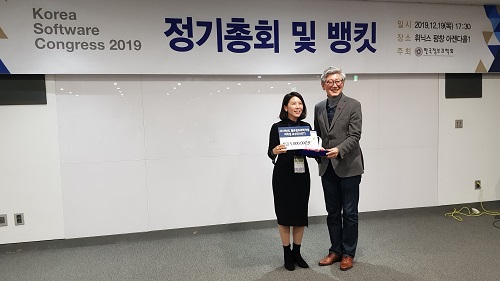 < Professor Meeyoung Cha (Left) >
Professor Meeyoung Cha from the School of Computing was awarded the fourth Young Information Scientist Award by the Korean Institute of Information Scientists and Engineers (KIISE) last month. Professor Cha is the first from KAIST to win the prize since its establishment under the auspices of the WWW 2014 organizing committee.
The Young Information Scientist Award is awarded to scientists under the age of 40 who have contributed to the development of information science and excelled in research and development in their field.
Professor Cha played a leading role as a young information scientist, having been cited more than 13,000 times in other research papers on fake news detection, lightweight and robust representation of economic scales from satellite imagery, and the development of insomnia detection models.
Reputed as a promising researcher, Professor Cha has been selected as the chief investigator at the Institute for Basic Science (IBS) since January 2019 where she has been operating the Data Science Group under the Center for Mathematical and Computational Sciences.
Professor Cha was also invited as a keynote speaker to the Conference on Empirical Methods in Natural Language Processing (EMNLP), an international academic conference held in Hong Kong in November 2019, where she gave a lecture on "Current Challenges in Computational Social Science" for 1,900 attendees.
(END)