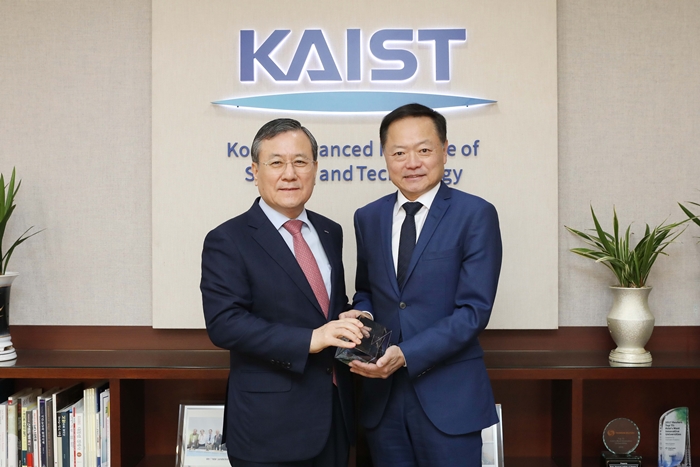 < Director Steve Ahn (Right) >
Steve Ahn, the Director of Startup KAIST, donated one hundred million KRW of development fund to his alma mater KAIST to increase entrepreneurship opportunities and nourish start-up culture on campus. Professor Ahn founded Leadis Technology Inc. in 2000, a fabless semiconductor company based in Silicon Valley that develops mobile phone sub-display applications. Leadis Technology Inc. made its stock market debut on the NASDAQ in 2004.
"KAIST produces many start-ups, however, entrepreneurial culture has yet to become a growth engine of KAIST, compared to education and research. Through invigorating entrepreneurial spirit and revitalizing start-up activities, KAIST should reclaim its leadership role in creating decent jobs and fuelling economic growth and competitiveness at home and abroad," he said during the donation ceremony last month.
He added, "I am forever grateful to my alma mater KAIST for having provided me with a quality education. It was a valuable asset that helped me gain an opportunity to nurture the up-and-coming, next-generation scholars as a professor at KAIST. I decided to make this donation hoping that KAIST students will be given more entrepreneurship opportunities, and a healthy start-up ecosystem will be accelerated beyond KAIST."
Director Ahn earned his bachelor's degree in metallurgy from Seoul National University, followed by a master's degree in materials engineering from KAIST. He received another master's degree in electrical engineering, and was granted a doctorate in materials engineering from Stanford University.
He has been mentoring start-up activities at Startup KAIST since 2014, and serving as the principal professor at K-School since 2016. From these activities, he was recognized for his academic achievements and committed leadership, which led him to be appointed as the Director of Startup KAIST in March 2019.
(END)