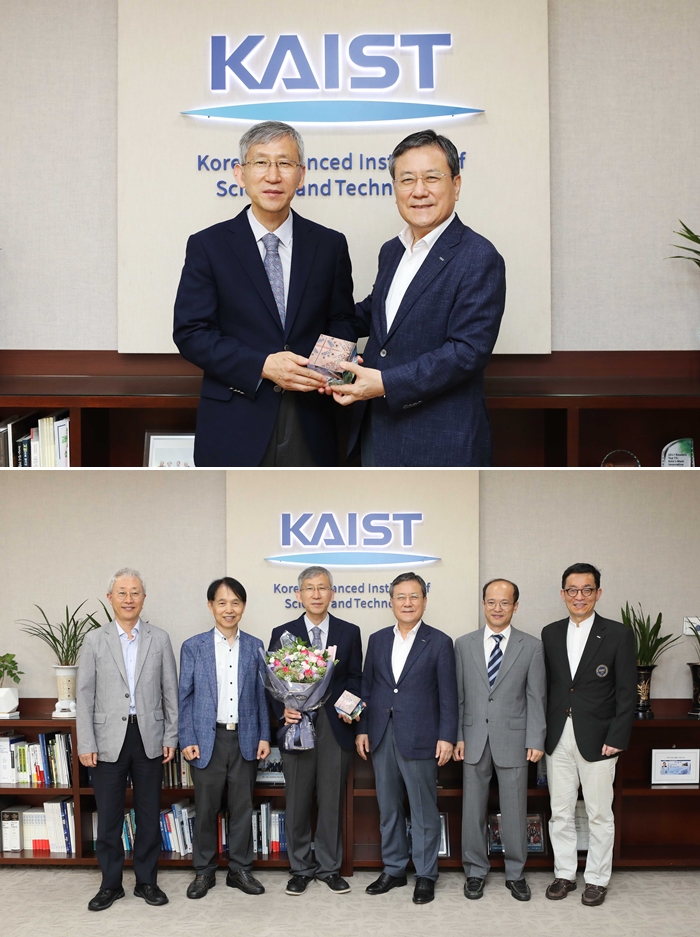 < Professor Sukbok Chang ( left in the top photo / third from the left in the bottom photo) >
The honoree of the 2019 Korea Best Scientist and Technologist Award, Distinguished Professor Sukbok Chang donated his prize money of one hundred million KRW to the Chemistry Department Scholarship Fund and the Lyu Keun-Chul Sports Complex Management Fund during a donation ceremony last week.
Professor Chang won the award last month in recognition of his pioneering achievements and lifetime contributions to the development of carbon-hydrogen activation strategies, especially for carbon-carbon, carbon-nitrogen, and carbon-oxygen formations. Professor Chang, a world renowned chemist, has been recognized for his highly selective catalytic systems, allowing the controlled defunctionalization of bio-derived platform substrates under mild conditions and opening a new avenue for the utilization of biomass-derived platform chemicals.
"All my achievements are the results of my students' hard work and dedication. I feel very fortunate to have such talented team members. I want to express my sincere gratitude for such a great research environment that we have worked together in so far," said Professor Chang at the ceremony.
KAIST President Sung-Chul Shin said, "Not only will Professor Chang's donation make a significant contribution to the Department of Chemistry, but also to the improvement of the Lyu Keun-Chul Sports Complex's management, which directly links to the health and welfare of the KAIST community."
Professor Chang currently holds the position of distinguished professor at KAIST and director of the Center for Catalytic Hydrocarbon Functionalizations in the Institute for Basic Science (IBS). He previously received the Kyung-Ahm Academic Award in 2013 and the Korea Toray Science Award in 2018. All these prize money also went to the school.
(END)