Team KAItalyst, composed of KAIST undergraduate students, celebrated victory in the regional qualifying rounds of the 2019 International Chem-E-Car Competition held at KAIST's Main Campus in Daejeon on July 20. The high finish in the national rankings qualified the team for a trip to the world finals to be held in Orlando, Florida, USA, in November.
The Chem-E-Car Competition involves designing and building a shoebox-sized model car that is powered and controlled by chemical reactions. University students from all over the world have been actively participating in this competition since the competition was introduced by the American Institute of Chemical Engineers (AIChE) in 1999.
KAIST first entered the competition in 2014, won the world finals in 2016, and then received the Most Consistent Award in 2017 and 2018. In recognition of KAIST's consistently outstanding performance in the competition, AIChE asked KAIST to host this year's regional competition for the first time in Korea.
Although a number of Korean university student teams have shown great interest in participating in this regional competition, most were not able to successfully implement their technology, and only two teams each from KAIST and Seoul National University (SNU) joined the competition.
Each team collaborated to fabricate a chemically powered model car that could carry a payload, and travel any distance between 15 and 30 meters. The weight of the payload and the travelling distance were randomly set an hour before the competition started, to require the participating teams adapt and perform calculations in a short period of time. The goal was to stop travelling exactly at the randomly chosen distance. The car closest to the finish line at the end of the race earned the highest amount of points. Precise control over chemical reactions was key to landing directly on the mark.
Team KAItalyst, consisting of six KAIST undergraduate students majoring in chemical and biomolecular engineering and mechanical engineering, beat their SNU rivals by stopping their car 1.5 meters closer to the goal at the end of the 22.5 meter-long race. Team KAItalyst loaded vanadium redox flow batteries onto their car to stabilize its output, and further increased the accuracy and velocity of chemical reactions through iodine clock reactions. 200 USD was awarded to Team KAItalyst, and 100 USD in prize money went to the SNU team.
KAItalyst team leader Jee-Hyun Hong said, "This was the first time for us to develop and drive our own chemically-powered model car, and we learned a lot from the challenges we faced," Hong continued, "We will step up our efforts to perform better in the upcoming international competition." The world finals will be held during the AIChE Fall Meeting in Orlando, Florida in November. Students from over 50 universities worldwide including the Georgia Institute of Technology and Carnegie Mellon University will compete against each other. The first, second, and third prizes at the finals will be 2,000, 1,000, and 500 USD respectively.
Professor Dong-Yeun Koh of the KAIST Chemical and Biomolecular Engineering Department who advised Team KAItalyst remarked, "I hope this year's regional competition that KAIST held for the first time as a Korean university will be a possible starting point for more Korean universities to participate and compete in the future."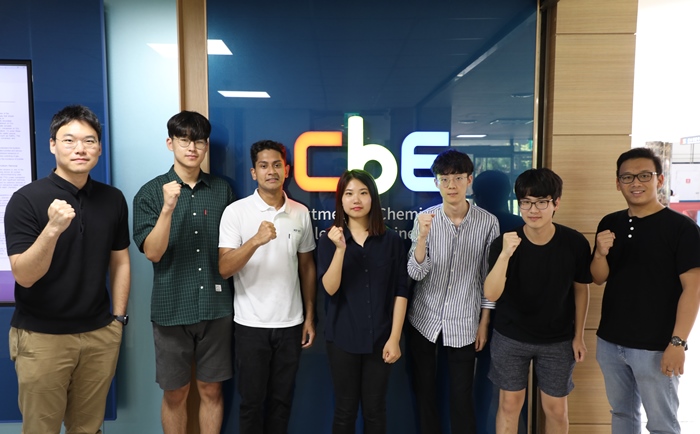 < Team KAItalyst (From left: Professor Dong-Yeun Koh, Seok-Yeong Jung, Shubhranil Sengupta, Jee-Hyun Hong, Geon-Ho Lee, Gyu-Bum Park, and Joshua Julio Adidjaja) >
(END)