(Video Credit: ⓒNASA JPL)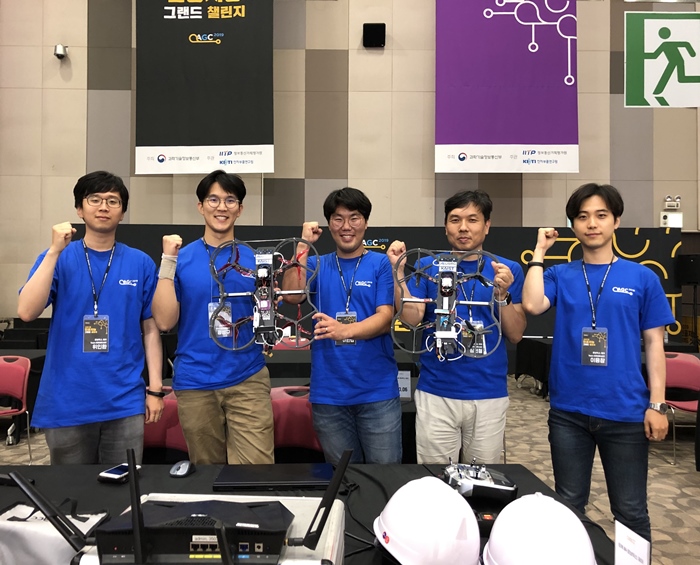 < Team USRG and Professor Shim (second from the right) >
Having recently won the AI R&D Grand Challenge Competition in Korea, Team USRG (Unmanned System Research Group) led by Professor Hyunchul Shim from the School of Electrical Engineering is all geared up to take on their next challenges: the 'Defense Advanced Research Projects Agency Subterranean Challenge (DARPA SubT Challenge)' and 'Lockheed Martin's AlphaPilot Challenge' next month.
Team USRG won the obstacle course race in the '2019 AI R&D Grand Challenge Competition' on July 12. They managed to successfully dominate the challenging category of 'control intelligence.' Having to complete the obstacle course race solely using AI systems without any connection to the internet made it difficult for most of the eight participating teams to pass the third section of the race, and only Team USRG passed the long pipeline course during their attempt in the main event. They also demonstrated, after the main event, that their drone can navigate all of the checkpoints including landing on the "H" mark using deep learning.
Their drone flew through polls and pipes, and escaped from windows and mazes against strong winds, amid cheers and groans from the crowd gathered at the Korea Exhibition Center (KINTEX) in Goyang, Korea. The team was awarded three million KRW in prize money, and received a research grant worth six hundred million KRW from the Ministry of Science and ICT (MSIT).
"Being ranked first in the race for which we were never given a chance for a test flight means a lot to our team. Considering that we had no information on the exact size of the course in advance, this is a startling result," said Professor Shim. "We will carry out further research with this funding, and compete once again with the improved AI and drone technology in the 2020 competition," he added.
The AI R&D Grand Challenge Competition, which was first started in 2017, has been designed to promote AI research and development and expand its application to addressing high-risk technical challenges with significant socio-economic impact.
This year's competition presented participants with a task where they had to develop AI software technology for drones to navigate themselves autonomously during complex disaster relief operations such as aid delivery.
Each team participated in one of the four tracks of the competition, and their drones were evaluated based on the criteria for each track. The divisions were broken up into intelligent context-awareness, intelligent character recognition, auditory intelligence, and control intelligence.
Team USRG's technological prowess has been already well acclaimed among international peer groups. Teamed up with NASA JPL, Caltech, and MIT, they will compete in the subterranean mission during the 'DARPA SubT Challenge'.
Team CoSTAR, as its name stands for, is working together to build 'Collaborative SubTerranean Autonomous Resilient Robots.' Professor Shim emphasized the role KAIST plays in Team CoSTAR as a leader in drone technology.
"I think when our drone technology will be added to our peers' AI and robotics, Team CoSTAR will bring out unsurpassable synergy in completing the subterrestrial and planetary applications. I would like to follow the footprint of Hubo, the winning champion of the 2015 DARPA Robotics Challenge and even extend it to subterranean exploration," he said.
These next generation autonomous subsurface explorers are now all optimizing the physical AI robot systems developed by Team CoSTAR. They will test their systems in more realistic field environments August 15 through 22 in Pittsburgh, USA. They have already received funding from DARPA for participating.
Team CoSTAR will compete in three consecutive yearly events starting this year, and the last event, planned for 2021, will put the team to the final test with courses that incorporate diverse challenges from all three events. Two million USD will be awarded to the winner after the final event, with additional prizes of up to 200,000 USD for self-funded teams.
Team USRG also ranked third in the recent Hyundai Motor Company's 'Autonomous Vehicle Competition' and another challenge is on the horizon: Lockheed Martin's 'AlphaPilot Challenge'. In this event, the teams will be flying their drones through a series of racing gates, trying to beat the best human pilot. The challenge is hosted by Lockheed Martin, the world's largest military contractor and the maker of the famed F-22 and F-35 stealth fighters, with the goal of stimulating the development of autonomous drones. Team USRG was selected from out of more than 400 teams from around the world and is preparing for a series of races this fall, beginning from the end of August.
Professor Shim said, "It is not easy to perform in a series of competitions in just a few months, but my students are smart, hardworking, and highly motivated. These events indeed demand a lot, but they really challenge the researchers to come up with technologies that work in the real world. This is the way robotics really should be."
(END)