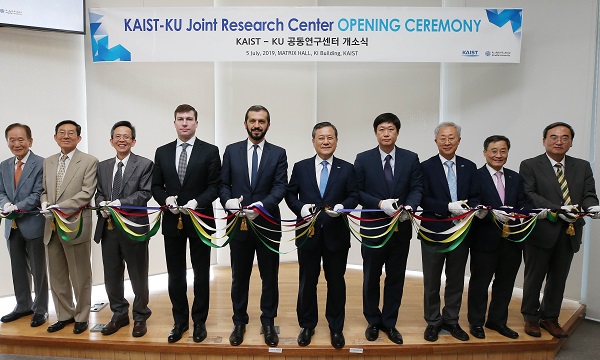 < President Shin (fifth from right) and Khalifa University Executive Vice President Arif Sultan Al Hammadi cut the tape during the opening ceremony of the joint research center at KAIST on July 5. >
The Joint Research Center partnering KAIST and Khalifa University has been completed and the opening of the KAIST center was held on July 5, 2019, following the opening at Khalifa in April.

The joint research center will explore the most impactful technologies that will change people's lives in the face of the new industrial environment brought about by the Fourth Industrial Revolution. The breakthroughs include smart transportation and smart healthcare such as wireless electric vehicles, unmanned vehicles, and wearable healthcare devices. The two institutions signed an MOU on the Joint Research Agreement on the Technology Development for the Fourth Industrial Revolution in 2018.

This is the second phase of collaboration following the partnership agreement that was signed in 2010 between the two institutions, which aimed to provide the best science and technology education as well as develop nuclear energy in the UAE.

The Khalifa University delegation, headed by Executive Vice President Arif Sultan Al Hammadi and Senior Vice President of Research and Development Steven Griffiths, flew in to attend the ceremony at KAIST. President Sung-Chul Shin, Vice President for Research Hyun Wook Park, Vice President for Planning and Budget Su-chan Chae, Associate Vice President of the International Office Man-Sung Yim joined and Co-Directors of the Joint Research Center Daniel Choi from Khalifa and Jong-Hyun Kim from KAIST also participated in the opening ceremony.