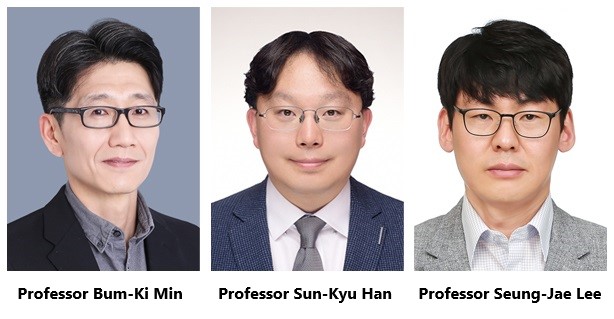 Three KAIST professors swept the 2nd Han Sung Science Awards. Professor Bum-Ki Min from the Departments of Mechanical Engineering and Physics, Professor Sun-Kyu Han from the Department of Chemistry, and Professor Seung-Jae Lee from the Department of Biological Sciences won all three awards presented by the Han Sung Scholarship Foundation, which recognizes promising mid-career scientists in the fields of physics, chemistry, and biological sciences. The awards ceremony will take place on August 16 in Hwaseong.
Professor Min was declared as the winner of the physics field in recognition of his outstanding research activities including searching for new application areas for metamaterials and investigating their unexplored functionalities. The metamaterials with a high index of refraction developed by Professor Min's research team have caught the attention of scientists worldwide, as they can help develop high-resolution imaging systems and ultra-small, hyper-sensitive optical devices.
The chemistry field winner, Professor Han, is the youngest awardee so far at 36 years of age. He is often described as one of the most promising next-generation Korean scientists in the field of the total synthesis of complex natural products. Given the fact that this field takes very long-term research, he is making unprecedented research achievements. He is focusing on convergent and flexible synthetic approaches that enable access to not only a single target but various natural products with structural and biosynthetic relevance as well as unnatural products with higher biological potency.
Professor Lee was recognized for his contributions to the advancement of biological sciences, especially in aging research. Professor Lee's team is taking a novel approach by further investigating complex interactions between genetic and environmental factors that affect aging, and identifying genes that mediate the effects. The team has been conducting large-scale gene discovery efforts by employing RNA sequencing analysis, RNAi screening, and chemical mutagenesis screening. They are striving to determine the functional significance of candidate genes obtained from these experiments and mechanistically characterize these genes.
(END)