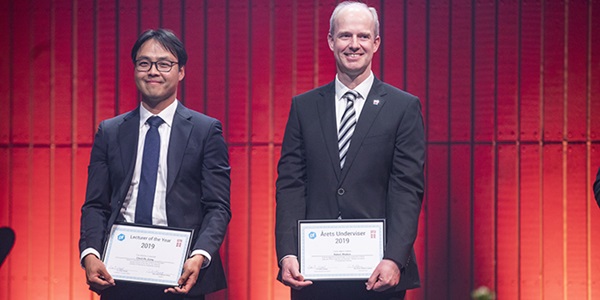 < Professor Cheol-Ho Jeong (Left) >
A KAIST alumnus and an associate professor at the Technical University of Denmark (DTU), Dr. Cheol-Ho Jeong was selected as the recipient of the Lecturer of the Year 2019 Award by DTU.
Professor Jeong received his B.S., M.Sc., and Ph. D. degrees from KAIST's Department of Mechanical Engineering in August 2007 under the supervision of Professor Jeong-Guon Ih, and has been serving as an assistant followed by associate professor at DTU's Department of Electrical Engineering since October 2007. His research covers wide arrays of architectural acoustics, environmental acoustics, psychoacoustics, and structural acoustics.
Every year, the students at DTU nominate one or two lecturer(s) of the year. The award celebrates and honors the selected lecturers for showing great commitment not only to education itself, but also to their communication and engagement with the students.
This year, the DTU student union Polyteknisk Forening nominated Professor Jeong for his outstanding course evaluations for his excellent teaching over the years. One of the student testimonies for the award read, "Professor Jeong is one of the best teachers I have ever had at DTU. He is very humane and approachable."
The awards ceremony was held on May 3 at DTU during the 2019 Annual Commemoration Party and Professor Jeong was warmly congratulated by the Crown Prince Couple of Denmark. The other award was given to Professor Robert Madsen from DTU's Chemistry department.
©Photo and Quote: Ulrik Jantzen, Büro Jantzen, Camilla Christiane Hermann.