Nuclear technology is more than just technology. It is the fruit of the most advanced science and technology. It also requires high standards of policymaking and global cooperation for benefiting the technology.
As part of the fifth annual Nuclear Nonproliferation Education and Research Center (NEREC) Summer Fellows Program at KAIST, 24 students from 15 countries participated in six-week intensive education and training program. NEREC is the only university-based center dedicated to nuclear nonproliferation education and research established in 2014.
The program, which provides multidisciplinary lectures and seminars on nuclear technology and policy as well as international relations, was designed to nurture global nuclear technology experts well equipped in three areas: in-depth knowledge of technology, applicability gained from sound policy building, and negotiating for international cooperation. It now has grown into the most popular summer program at KAIST.
During the program from July 6 to August 18, participants were able to engage in enriching and stimulating learning experiences in tandem with policies and technology for the utilization and provision of peaceful and safe nuclear technology.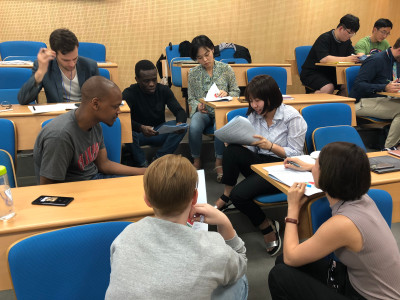 Participating fellows also had to conduct a group research project on a given topic. This year, they explored nuclear nonproliferation issues in relation to nuclear exports and brainstormed some recommendations for current policy. They presented their outcomes at the 2018 NEREC Conference on Nuclear Nonproliferation. After intensive lecture sessions and group research work, the fellows went off to key policy think-tanks, nuclear research institutes, and research power facilities in Korea, Japan, and China.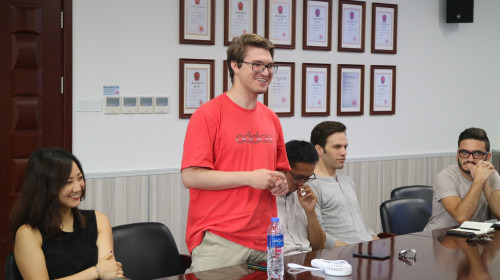 "NEREC emphasizes nuclear nonproliferation issues related to civilian nuclear power and the associated nuclear fuel cycle development from the point of technology users. I am very glad that the number of participants are increasing year by year," said the Director of NEREC Man-Sung Yim, a professor in the Department of Nuclear and Quantum Engineering.
Participants' majors vary from nuclear engineering to international relations to economics. The fellows divided into two groups of graduate and undergraduate courses. They expressed their deep satisfactory in the multidisciplinary lectures by scholars from KAIST, Seoul National University, and Korea National Defense University.
Many participants reported that they learned a lot, not only about policy and international relations but on the research they are conducting and what the key issues will be in dealing for producing meaningful research work.
Moad Aldbissi from the KTH Royal Institute of Technology is one of the students who shared the same view. He said, "Coming from a technical background in nuclear engineering, I managed to learn a lot about nuclear policy and international relations. The importance of integrating the technical and political fields became even clearer."
Most students concurred that they recognized how important it was to make international collaboration in this powerful field for each country through this program.
"As an engineering student, I just approached this program like an empty glass in policy areas. While working with colleagues during the program, I came to understand how important it is to make cooperation in these fields for the better result of national development and international relations," said Thanataon Pornphatdetaudom from the Tokyo Institute of Technology.
To Director Yim, this program is becoming well positioned to educate nuclear policy experts in a number of countries of strategic importance. He believes the continuous supply of these experts will contribute to promoting global nuclear nonproliferation and the peaceful use of nuclear energy while the use of nuclear technology continues.