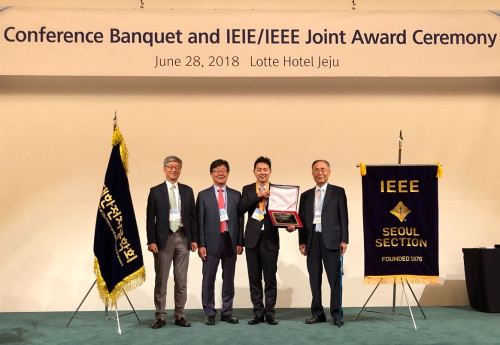 (The ceremony photo of Professor Changho Suh)
Professor Changho Suh from the School of Electrical Engineering received the IT Young Engineer Award on June 28. This award is hosted by the Institute of Electrical and Electronics Engineers (IEEE) and the Institute of Electrical and Information Engineers (IEIE) and funded by the Haedong Science Foundation.
The IT Young Engineer Award is given to researchers under the age of 40 in Korea. The selection criteria include the researches' technical practicability, their social and environmental contributions, and their creativity.
Professor Suh has shown outstanding academic performance in the field of telecommunications, distributed storage, and artificial intelligence and he has also contributed to technological commercialization. He published 23 papers in SCI journals and ten papers at top-level international conferences including the Conference on Neural Information Processing Systems and the International Conference on Machine Learning. His papers were cited more than 4,100 times. He has also achieved 30 international patent registrations.
Currently, he is developing an autonomous driving system using an AI-tutor and deep learning technology.
Professor Suh said, "It is my great honor to receive the IT Young Engineer Award. I strive to continue guiding students and carrying out research in order to make a contribution to the fields of IT and AI."