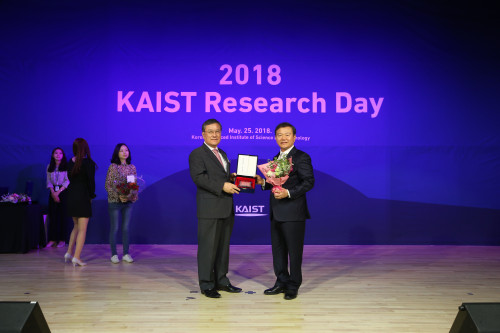 (KAIST President Sung-Chul Shin and Professor Jong-Hwan Kim)
Professor Jong-Hwan Kim from the School of Electrical Engineering was recognized at the 2018 KAIST Research Day as the Research Grand Prize Awardee. The ten most distinguished research achievements of the past year were also recognized.
The Research Grand Prize recognizes the professor whose comprehensive research performance evaluation indicator was the highest over the past five years. The indicator combines the number of research contracts, IPR and royalty income.
During the May 25th ceremony, Professor Hyochoong Bang from the Department of Aerospace Engineering and Professor In so Kweon from the School of Electrical Engineering also won the Best Research Award prize.
This year, the Research Innovation Award went to Professor Dong Soo Han from the School of Computing. The Research Innovation Award combines scores in the categories of foreign patent registrations, contracts of technological transfer, and income from technology fees, technology consultations, and startups.
The Convergence Research Award was given to Professor Junmo Kim from the School of Electrical Engineering and Professor Hyun Myung from the Department of Civil & Environmental Engineering. The Convergence Research Award recognizes the most outstanding research team that created innovative research results over a one-year period.
President Sung-Chul Shin said, "KAIST has selected the ten most outstanding research achievements of 2017 conducted by our faculty and researchers. All of them demonstrated exceptional creativity, which opens new research paths in each field though their novelty, innovation, and impact."
KAIST hosts Research Day every year to introduce major research performances at KAIST and share knowledge about the research and development.
During Research Day, KAIST also announced the ten most distinguished research achievements contributed by KAIST professors during the previous year. They are listed below.
▲ High-Speed Motion Core Technology for Magnetic Memory by Professor Kab-Jin Kim from the Department of Physics
▲ A Double Well Potential System by Professor Jaeyoung Byeon from the Department of Mathematical Sciences
▲ Cheap and Efficient Dehydrogenation of Alkanes by Professor Mu-Hyun Baik from the Department of Chemistry
▲ A Dynamic LPS Transfer Mechanism for Innate Immune Activation by Professor Ho Min Kim from the Graduate School of Medical Science and Engineering
▲ A Memristive Functional Device and Circuit on Fabric for Fibertronics by Professor Yang-Kyu Choi and Professor Sung-Yool Choi from the School of Electrical Engineering
▲ A Hippocampal Morphology Study Based on a Progressive Template Deformable Model by Professor Jinah Park from the School of Computing
▲ The Development of a 6-DOF Dynamic Response Measurement System for Civil Infrastructure Monitoring by Professor Hoon Sohn from the Department of Civil and Environmental Engineering
▲ Cooperative Tumour Cell Membrane Targeted Phototherapy by Professor Ji-Ho Park from the Department of Bio and Brain Engineering
▲ HUMICOTTA: A 3D-Printed Terracotta Humidifier by Professor Sangmin Bae from the Department of Industrial Design
▲ Ultrathin, Cross-Linked Ionic Polymer Thin Films by Professor Sung Gap Im from the Department of Chemical and Biomolecular Engineering