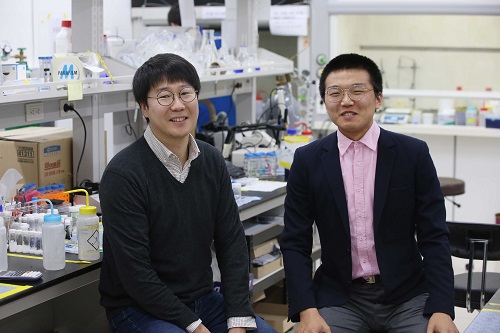 (from left: Research Professor KyuHan Kim and Undergrad Student Subeen Kim)
A KAIST undergraduate student, Subeen Kim, had his paper chosen as the cover article in an international journal during his senior year.
There have been an increasing number of undergraduate students who were published as the first author because the KAIST Undergraduate Research Participation program allows more active research participation by undergraduate students.
Through URP, Kim successfully published his paper in the internationally-renowned journal, Soft Matter, which is published by the Royal Society of Chemistry, and it was chosen as the cover article of that journal in February 2018.
This publication means a lot to him because he designed the cover image himself, based on his imagination and observations.
His research is about controllable one-step double emulsion formation. Double emulsion is a system in which dispersed droplets contain additional immiscible liquid droplets.
Having great retention ability, double emulsion has been used in various applications in the food industry, in cosmetics, and for drug delivery. Nevertheless, two-step emulsification is a conventional approach to produce double emulsions that typically leads to partial destabilization of the emulsion formed during the initial stage. Hence, it does not ensure the stability of a double emulsion. On the other hand, a microfluidic approach with various flow-focusing techniques has been developed, but it has low production efficiency and thus limited industrial applications.
Kim's results came from the process of phase inversion to solve this problem. He identified the instant formation of double emulsions during the process of phase inversion. Based on this finding, he proposed criteria to achieve high stability of double emulsion.
Through constant research, he developed a quite general method using a combination of an oil soluble poly methyl methacrylate (PMMA) and hydrophobic silica nanoparticle (HDK H18). This new method enables one-step and stable production of double emersions in a stable manner. It also allows control of the number and the volume of inner oil droplets inside the outer water droplets by adjusting PMMA and HDK H18.
Kim enrolled at KAIST as a KAIST Presidential Fellowship and Presidential Science Scholarship in 2014. While studying both chemical and biomolecular engineering and chemistry he has been developing his hypothesis and conducting research.
He was able to begin conducting research because he has taken part in URP projects twice. In his sophomore year, he studied the formation of high internal phase double emulsions. After one year, he conducted research to produce superabsorbent resins, which are the base material for diapers, by using colloid particles. Using partial research outcomes, he published his paper in Nature Communications as a second author.
Kim said, "Double majoring the chemical and biomolecular engineering and chemistry has helped me producing this outcome. I hope that this research contributes to commercializing double emulsions. I will continue to identify accurate principles to produce chemicals that can be controlled exquisitely."
Figure 1. The cover article of Soft Matter