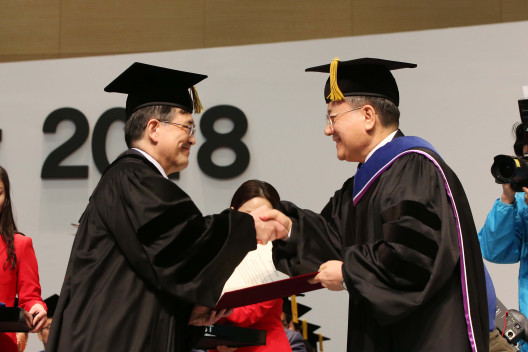 (Samsung Electronics' Chairman & CEO Kwon,left, and President Shin)
The semiconductor has bred innovation in Korea, as one of the staples of economic growth. Without the success of the semiconductor industry of Korea, it is hard to imagine the high tech dominance in the global market enjoyed by Korean companies.

It is said that one in every four Ph.D.s working in the semiconductor industry of Korea graduated from KAIST. Among them, Chairman and CEO Oh-Hyun Kwon of Samsung Electronics, Class of 1977, has arrived at the epitome of this top industry.

KAIST's class of 1977 produced many movers and shakers in Korea's innovation efforts. Now in their mid-60s, they were the players who embodied Korea's ICT and helped it become a global powerhouse. They are the ones who worked for and witnessed the socio-economic transformation of Korea through innovation.

In recognition of his unsurpassable entrepreneurship, which made the remarkable strides in the semiconductor and electronics industry in Korea and beyond, Chairman Kwon was honored as the first recipient of an honorary doctorate from his alma mater on February 23 during the 2018 commencement ceremony.
After completing his Master's in Electrical Engineering at KAIST in 1977, he earned his Ph.D. in Electrical Engineering from Stanford University. The first honorary degree bestowed to an alumnus was conferred by the first alumnus President of KAIST Sung-Chul Shin. President Shin said that Chairman Kwon's exceptional leadership has inspired the KAIST community and exemplified the spirit of KAIST.

Currently serving as chairman & CEO of Samsung Electronics and Samsung Advanced Institute of Technology (SAIT), Kwon has worked for Samsung in a variety of key positions in their semiconductor division since 1985.

In the mid-1980s, Japan was leading the global semiconductor market. At Samsung, Chairman Kwon, who was in charge of the memory semiconductor team, successfully developed 4M DRAM. Later in 1992, he played a leading role in the development of the world's first 64M DRAM.

The success of 4M DRAM and 64M DRAM led Samsung to clinch the top position in the DRAM and NAND flash business around the world. This helped Samsung emerge as a global leader in the semiconductor industry.

As a result, Samsung, as well as the national economy, could gain significant momentum to build national competitiveness and economic growth. The outstanding technological leadership of Chairman Kwon led to the development of proprietary semiconductor design and processes technologies as well as numerous patents.

He also played a leadership role in creating a mutual growth environment among conglomerates rather than merely engaging in direct competition. Chairman Kwon made every effort to establish the cornerstone of mutual growth, especially in relationships with small and medium-sized enterprises (SMEs). His win-win collaboration initiatives among conglomerates and SMEs made a significant impact on the development of the entire industry of Korea.

In his acceptance speech, he charged the graduates to embrace challenges, to collaborate with peers, and create their own future.

The full text of his speech is printed below.

Graduates and distinguished guests! I extend my sincere congratulations to my fellow graduates, as you are awarded degrees for your deep efforts, as well as to the parents and family members who have supported you.

In 1977, I received my Master's degree in Electrical Engineering from KAIST. Today, as the first honorary doctor among KAIST graduates, I am truly honored to be here. I am deeply grateful to all of you, including President Sung-Chul Shin and the Chairman of the Board of Trustees, Jang-Moo Lee.

Today, I want to tell you about the experiences and lessons I have learned from my 40 years of corporate management experience.

First, you should lead and drive changes by yourself. In the process of realizing a dream, the situation and circumstances do not always proceed as you planned.

I started my career as a researcher. However, I had to continuously transform myself into a project leader, business team leader, and CEO. It was challenging every time, due to a lack of preparing and my insufficient ability. However, I have always accomplished the intended goal through the mindset of embracing changes and studying new things.

It is said that the survivors are not always the strongest nor the most intelligent, but the ones who are the most adaptive to changes. We can only be the last survivor if we have the character to see those small signs that signal changes are coming and cope with changes well. Take changes positively and actively and then, transform yourself to match a given situation.

In addition, it is important to understand others. When it comes to one's career, there is nothing that you can do alone without the assistance of others. If it is not possible to do everything by yourself, you will need to supplement your efforts through the help of others. To do this, you need to understand your colleagues, bosses, and customers first.

People, who work in tech tend to cage themselves in their own silos. But in an era of destructive innovation, where boundaries of industries and technologies are collapsing at a breakneck pace, scientists also need to enhance their understanding of various areas such as culture, art, and the humanities.

This is a famous verse from a poem by Chun-Soo Kim.
Before I called his name,
He was nothing but a gesture.
When I called his name,
He came to me and became a flower.

Make wonderful synergy by making your partner a flower and complementing each other. When you first notice the true value of another person and interact with them, the value of the individual will be doubled and will bring about a greater impact.

Finally, we all need to cooperate with each other. All of you here, including myself, are people who have benefited from society. We must cooperate with each other and give back to society for the best results.

A biologist once said that incremental evolution comes from competition, but fundamental evolution comes from cooperation. Great leaders should achieve results through cooperation rather than competition.

You are the future leaders with top-class knowledge. I hope you will become great leaders who have wisdom that combines external resources with your abilities.

Now, graduates of 2018 who are standing at the starting line, we often worry about an unpredictable tomorrow. However, the smartest way to predict the future is to create the future for ourselves. Moreover, we can try again even though we sometimes make mistakes. I urge you to make future you are hoping for.

Once again, I would like to thank you for this honorary doctorate and extend my sincere wishes for the endless development of KAIST and the best of luck to the futures of these graduates. Thank you.