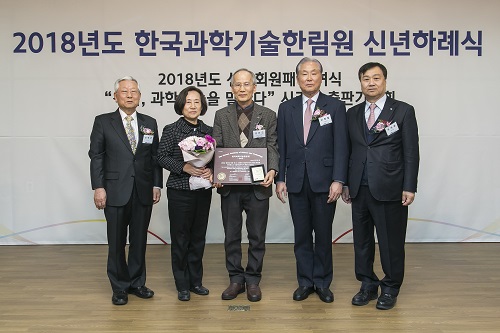 (Professor Dan Keun Sung at the center)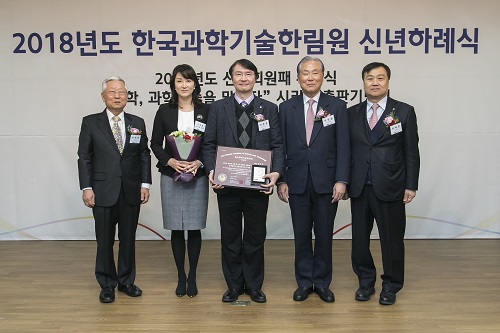 (Professor Y.H. Cho at the center)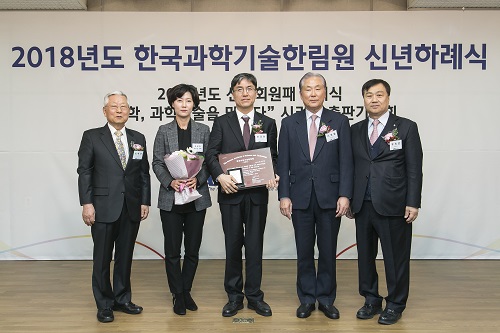 (Professor K.H. Cho at the center)
The Korean Academy of Science and Technology (KAST) inducted three KAIST professors as fellows at the New Year's ceremony held at KAST on January 12. They were among the 24 newly elected fellows of the most distinguished academy in Korea. The new fellows are Professor Dan Keun Sung of the School of Electrical Engineering, Professor Kwang-Hyun Cho of the Department of Bio and Brain Engineering, and Professor Yong-Hoon Cho of the Department of Physics.
Professor Sung was recognized for his lifetime academic achievements in fields related with network protocols and energy ICT. He also played a crucial role in launching the Korean satellites KITSAT-1,2,3 and the establishment of the Satellite Technology Research Center at KAIST.
Professor Y.H.Cho has been a pioneer in the field of low-dimensional semiconductor-powered quantum photonics that enables quantum optical research in solid state. He has been recognized as a renowned scholar in this field internationally.
Professor K.H.Cho has conducted original research that combines IT and BT in systems biology and has applied novel technologies of electronic modeling and computer simulation analysis for investigating complex life sciences. Professor Cho, who is in his 40s, is the youngest fellow among the newly inducted fellows.