KAIST-born humanoid robot, Hubo, completed its special new mission: carrying the Olympic torch. The Winter Olympics will be held in PyeongChang for two weeks beginning February 9.
On December 11, the final leg of the torch relay in Daejeon for the PyeongChang Olympics 2018 took place inside KAIST. A city known for science and technology hosted special torch relay runners over three days.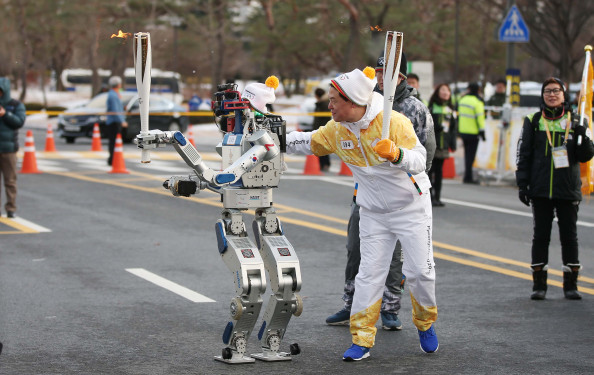 Hubo arrived at the campus with Dr. Dennis Hong, a professor from the University of California at Los Angeles, in an autonomous vehicle. Then, Hubo received the flame from Professor Hong. Hubo, a robot developed by Professor Jun Ho Oh from the Department of Mechanical Engineering at KAIST, is best known for being the winner of the DARPA Robotics Challenge in 2015.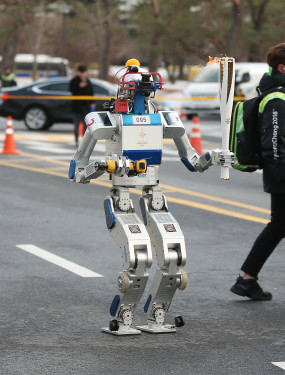 Hubo successfully completed its Olympic mission. That is, it had to drill through a wall to deliver the torch to the next runner. After completing the mission successfully, the torch was passed to Professor Oh. He ran a few steps and handed it over to the last runner of the Daejeon leg.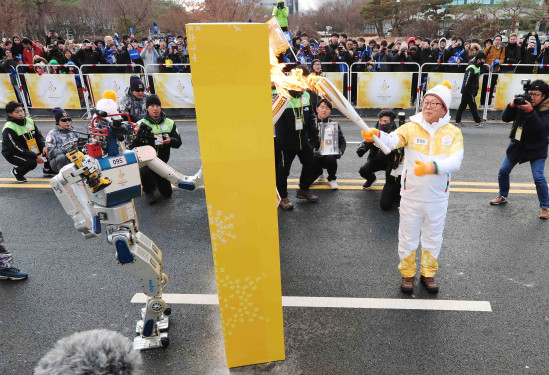 The last runner was Jung Jae Lee, who is a winning team member of the Samsung Junior Software Cup. Lee also had the honor of riding and controlling FX-2 which is another robot developed by Professor Oh for this peace torch relay. FX-2 took a few steps to finalize the relay.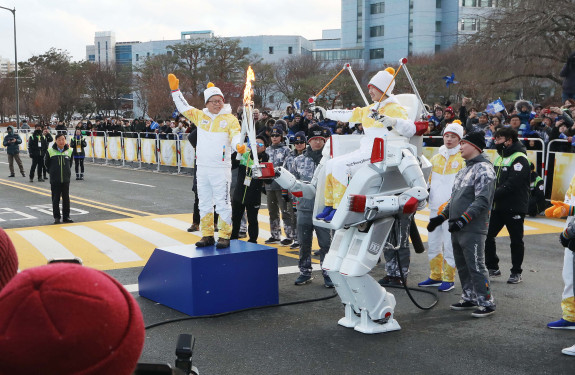 Lee said, "I would like to become an expert in security. As I was riding the robot, I felt every step I took was one step closer to achieving of making major developments in the field of security.

Professor Oh said, "It is meaningful to see humans and robots cooperating with each other to carry out the torch relay."

The torch relay, participated in by both humans and robots in Daejeon, was successfully completed and the torch headed off to Boryeong, Chungcheongnam-do.