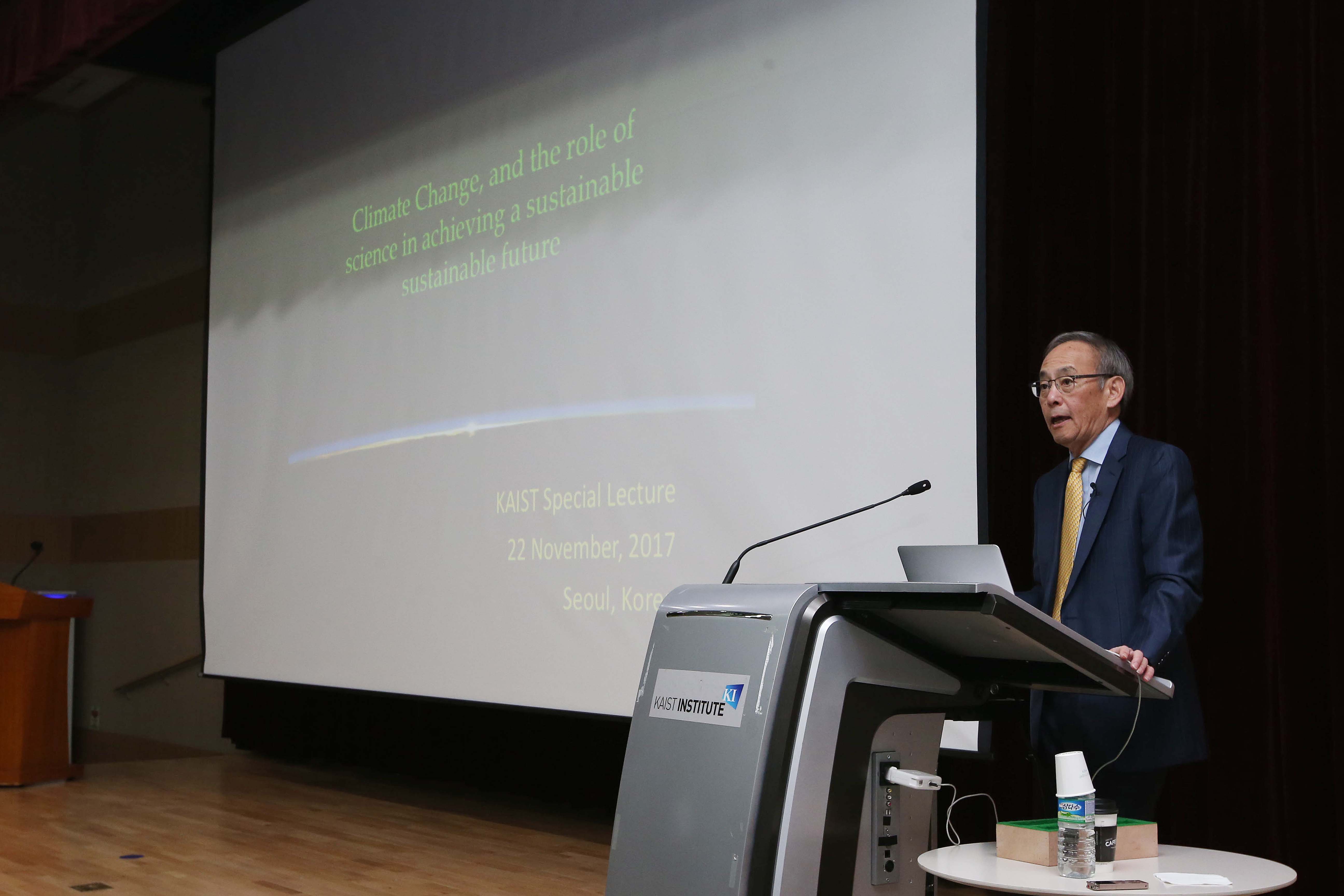 < Dr. Steven Chu Talks on Sustainable Energy Policy at KAIST >
Nobel Laureate in physics and former US Energy Secretary Steven Chu called for concerted efforts to develop a more sustainable energy policy and portfolio at a lecture held at KAIST and a forum in Seoul on November 23.

A policy with an energy mix including nuclear power and renewable energy could be ideal for retaining a stable energy supply given Korea's very limited geographical conditions, Chu said during the Future Energy Forum in Seoul. He also held a lecture at KAIST's Daejeon campus on "Climate Change, the Importance of Science and Policy in Achieving a Sustainable Future."

He said that unlike the United States, Korea and Japan have geographical limitations for generating enough renewable energy. "Wind speeds of more than 10 meters per second would allow wind power generation, but, South Korea's southernmost wind speed in Jeju is less than 8 meters per second, and the amount of sunshine is lower than in the Middle East. It is ideal to combine renewable energy with nuclear power plants," he said.

Chu also stressed the role of science in achieving a sustainable future, citing many cases in foreign countries. For instance, Germany once decided to do away with nuclear power. However, their initial plan does not directly raise energy efficiency and the proportion of fossil fuels has led to an increase in the environmental issue of fine particular matter as well as carbon dioxide emission increases.

He said that in the long term, renewable energy will emerge as major alternative resources, stressing the role of science in achieving a sustainable future. Without this alternative, we will eventually burn more fossil fuels and pollute the air.

Chu also said that nuclear waste and safe plant operation will be a big concern, but it is technologically viable since Korea has already proven its prowess in nuclear power plant building and safety technology.

Chu added, "Research in chemical energy storage through novel electrochemistry may lead to solutions, but for the next half century we will need additional energy-on-demand and carbon-free sources of energy from proven technologies."

"While science, innovation and technology will no doubt lead to better solutions, sound government policies are needed to advance the transition to carbon-free energy needed to achieve a more sustainable world," he said.

After serving as the US Secretary of Energy for four years from 2009 to 2013, Professor Chu returned to Stanford University, and currently holds a position of the William R. Kenan, Jr. Professor of Physics as well as Professor in the Department of Molecular and Cellular Physiology.

Professor Chu is known for his research at Bell Labs and Stanford University regarding the cooling and trapping of atoms with laser light, for which he won the Nobel Prize in Physics in 1997.