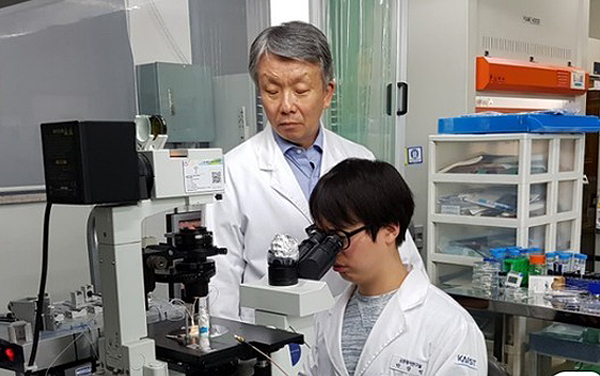 Professor Hyung Jin Sung from the Department of Mechanical Engineering at KAIST received a 'Science and Technology Award of the Month' given by the Ministry of ICT and Science and the National Research Foundation of Korea for November 2017. He developed technology that can exquisitely control a micrometer-scaled liquid drop on a dime-sized lab-on-a-chip. With his work, he was recognized for reinforcing research capability on microfluidics.

Lab-on-a-chip is an emerging experiment and diagnostic technology in the form of a bio-microchip that facilitates complex and various experiments with only a minimal sample size required. This technology draws a lot of attention not only from medical and pharmaceutical areas, but also the health and environmental field. The biggest problem was that technology for the temperature control of a fluid sample, which is one of the core technologies in microfluidics, has low accuracy. This limit had to be overcome in order to use the lab-on-a-chip more widely.

Professor Sung developed an acoustic and thermal method which controls the temperature of a droplet quickly and meticulously by using sound and energy. This is a thermal method that uses heat generated during the absorption of an acoustic wave into viscoelastic substances. It facilitates a rapid heating rate and spatial-temporal temperature control, allowing heating in desired areas. In addition, Professor Sung applied his technology to polymerase chain reactions, which are used to amplify DNA.

Through this experiment, he successfully shortened the reaction time from 1-2 hours to only three minutes, making this a groundbreaking achievement.

Professor Sung said, "My research is significant for enhancing the applicability of microfluidics. I expect that it will lead to technological innovations in healthcare fields including biochemistry, medical checkups, and new medicine development."