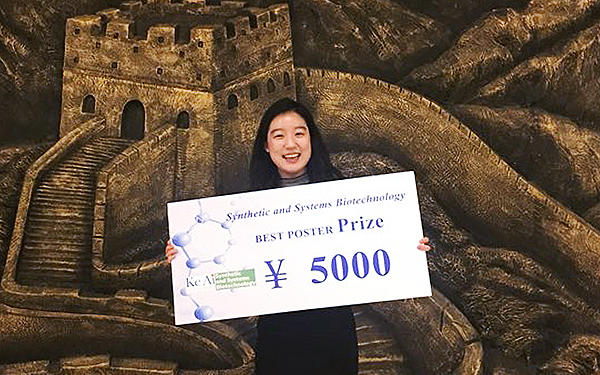 In Jin Cho, a Ph.D. student in the Department of Chemical and Biomolecular Engineering at KAIST received the best poster prize at the International Metabolic Engineering Summit 2017 held on October 24 in Beijing, China.
The International Metabolic Engineering Summit is a global conference where scientists and corporate researchers in the field of metabolic engineering present their latest research outcomes and build networks.
At this year's summit, about 500 researchers from around the world participated in active academic exchanges, including giving keynote speeches and presenting posters.
During the poster session, the summit selects one person for the KeAi-synthetic and Systems Biotechnology Poster Award, two for Microbial Cell Factories Poster Awards, and three for Biotechnology Journal Poster Awards among the posters presented by graduate students, post-doctoral fellows and researchers. Cho received the KeAi-synthetic and Systems Biotechnology Poster Award. Her winning poster is on the biotransformation of p-xylene to terephthalic acid using engineered Escherichia coli.
Terephthalic acid is generally produced by p-xylene oxidation; however, this process requires a high temperature and pressure as well as a toxic catalyst during the reaction process.
Cho and Ziwei Luo, a Ph.D. student at KAIST, co-conducted the research and developed a successful biological conversion process. Compared to the existing chemical process, it does not require a high temperature and pressure; and it is environmentally friendly with a relatively high conversion rate of approximately 97%.
Cho's advisor, Distinguished Professor Sang Yup Lee said, "Further research on glucose-derived terephthalic acid will enable us to produce biomass-based eco-friendly terephthalic acid through engineered Escherichia coli."