Recent KAIST statistics show that graduates from science academies distinguish themselves not only by their academic performance at KAIST but also in various professional careers after graduation.
Every year, approximately 20% of newly-enrolled students of KAIST are from science academies. In the case of the class of 2017, 170 students from science academies accounted for 22% of the newly-enrolled students. Moreover, they are forming a top-tier student group on campus. As shown in the table below, the ratio of students graduating early for either enrolling in graduate programs or landing a job indicates their excellent performance at KAIST.
There are eight science academies in Korea: Korea Science Academy of KAIST located in Busan, Seoul Science High School, Gyeonggi Science High School, Gwangju Science High School, Daejeon Science High School, Sejong Academy of Science and Arts, and Incheon Arts and Sciences Academy.
Recently, KAIST analyzed 532 university graduates from the class of 2012. It was found that 23 out of 63 graduates with the alma mater of science academies finished their degree early; as a result, the early graduation ratio of the class of 2012 stood at 36.5%. This percentage was significantly higher than that of students from other high schools.

Among the notable graduates, there was a student who made headlines with donation of 30 million KRW to KAIST. His donation was the largest donation from an enrolled student on record. His story goes back when Android smartphones were about to be distributed. Seung-Gyu Oh, then a student in the School of Electrical Engineering felt that existing subway apps were inconvenient, so he invented his own subway app that navigated the nearest subway lines in 2015. His app hit the market and ranked second in the subway app category. It had approximately five million users, which led to it generating advertising revenue. After the successful launch of the app, Oh accepted the takeover offered by Daum Kakao. He then donated 30 million KRW to his alma mater. "Since high school, I've always been thinking that I have received many benefits from my country and felt heavily responsible for it," the alumnus of Korea Science of Academy and KAIST said. "I decided to make a donation to my alma mater, KAIST because I wanted to return what I had received from my country." After graduation, Oh is now working for the web firm, Daum Kakao.
In May 24, 2017, the 41st International Collegiate Programming Contest, hosted by Association for Computing Machinery (ACM) and sponsored by IBM, was held in Rapid City, South Dakota in the US. It is a prestigious contest that has been held annually since 1977. College students from around the world participate in this contest; and in 2017, a total of 50,000 students from 2,900 universities in 104 countries participated in regional competitions, and approximately 400 students made it to the final round, entering into a fierce competition. KAIST students also participated in this contest. The team was comprised of Ji-Hoon Ko, Jong-Won Lee, and Han-Pil Kang from the School of Computing. They are also alumni of Gyeonggi Science High School. They received the 'First Problem Solver' award and a bronze medal which came with a 3,000 USD cash prize.
Sung-Jin Oh, who also graduated from Korea Science Academy of KAIST, is a research professor at the Korea Institute of Advanced Study (KIAS). He is the youngest recipient of the 'Young Scientist Award', which he received by proving a hypothesis from Einstein's Theory of General Relativity mathematically at the age of 27. After graduating from KAIST, Oh earned his master's and doctorate degrees from Princeton University, completed his post-doctoral fellow at UC Berkeley, and is now immersing himself in research at KIAS.
Heui-Kwang Noh from the Department of Chemistry and Kang-Min Ahn from the School of Computing, who were selected to receive the presidential scholarship for science in 2014, both graduated from Gyeonggi Science High School. Noh was recognized for his outstanding academic capacity and was also chosen for the 'GE Foundation Scholar-Leaders Program' in 2015. The 'GE Foundation Scholar-Leaders Program', established in 1992 by the GE Foundation, aims at fostering talented students. This program is for post-secondary students who have both creativity and leadership. It selects five outstanding students and provides 3 million KRW per annum for a maximum of three years.
The grantees of this program have become influential people in various fields, including professors, executives, staff members of national/international firms, and researchers. And they are making a huge contribution to the development of engineering and science. Noh continues doing various activities, including the completion of his internship at 'Harvard-MIT Biomedical Optics' and the publication of a paper (3rd author) for the ACS Omega of American Chemical Society (ACS).
Ahn, a member of the Young Engineers Honor Society (YEHS) of the National Academy of Engineering of Korea, had an interest in startup businesses. In 2015, he founded DataStorm, a firm specializing in developing data solution, and merged with a cloud back-office, Jobis & Villains, in 2016. Ahn is continuing his business activities and this year he founded, and is successfully running, cocKorea.
"KAIST students whose alma mater are science academies form a top-tier group on campus and produce excellent performance," said Associate Vice President for Admissions, Hayong Shin. "KAIST is making every effort to assist these students so that they can perform to the best of their ability."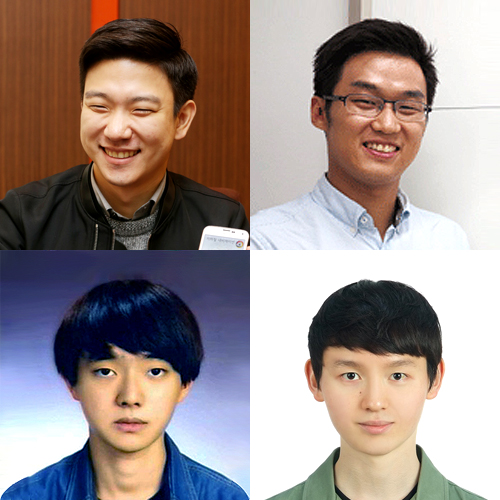 (Clockwise from top left: Seung-Gyu Oh, Sung-Jin Oh, Heui-Kwang Noh and Kang-Min Ahn)