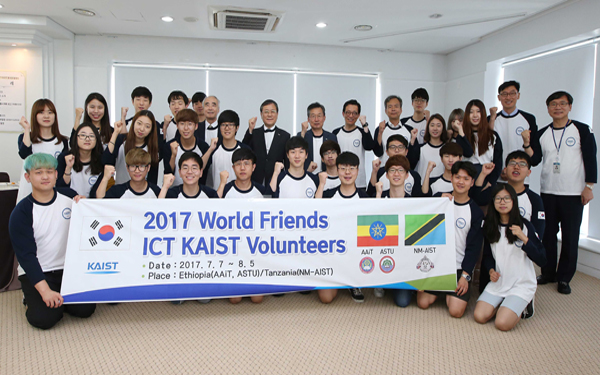 KAIST launched the '2017 World Friends ICT KAIST' on 21 June at a ceremony held at the Faculty Club. The event was attended by 40 student volunteers and faculty members including President Sung-Chul Shin and student volunteers.

The '2017 World Friends ICT KAIST' is an oversees volunteer program aimed at providing ICT education for students from developing countries and for cultural exchange. The program was organized by the KAIST Leadership Center and sponsored by the National Information Agency (NIA) since 2015.

President Sung-Chul Shin delivered words of encouragement to start the opening ceremony, followed by an oath-taking by the volunteer group, safety training, and a commemorative photoshoot. This year's World Friends ICT volunteer group consisted of 32 students and 2 staff members to lead and to support the team.

The group was divided into eight teams including APP-frica, KAI-Tigers, and WITH (4 members per team) to volunteer in Addis Ababa Institute of Technology (AAIT) and Adama Science and Technology University in Ethiopia (ASTU), as well as Nelson Mandela African Institute of Science and Technology (NM-AIST) in Tanzania. The teams will educate local students on ICT and promote cultural exchanges. The volunteer period is from July 7 to August 5, lasting about a month.

KAIST conducted primary document examinations and interviews from April 27 to May 18 on volunteer candidates who registered to take part, and selected 32 student volunteers. A total of 68 students registered to volunteer, resulting in a 1:2.1 competition rate.

The volunteering program was customized to the local needs of Ethiopia and Tanzania and thus consisted of ICT education, cultural exchanges, volunteering at farms on the weekends, and science experiments. The area with the most focus by the volunteer team is ICT education, which accounts for 70% of the total volunteer activities. The aim is to educate Ethiopian students at AAIT and ASTU on Windows, MS Office, Adobe Photoshop, and using smartphones. In Tanzania, the team is to volunteer with students of NM-AIST to provide ICT application education such as water tank control using appropriate technology and Arduino to local high school students.

The team is also planning to promote cultural exchanges by preparing K-Pop dancing, traditional Korean games such as Korean shuttlecock game (jegichagi) and Korean wrestling (ssireum), traditional cooking such as bibimbab and half-moon-shaped rice cake (songpyeon), and teaching the Korean language, as well as preparing cultural performances with local university students. On the weekends, the team will visit local farms to volunteer, and local elementary schools and orphanages to conduct science experiments for children, as well as physical education and art activities.

(Photo caption: Volunteers poses with faculty and staff members including President Sung-Chul Shin at a ceremony on June 21.)