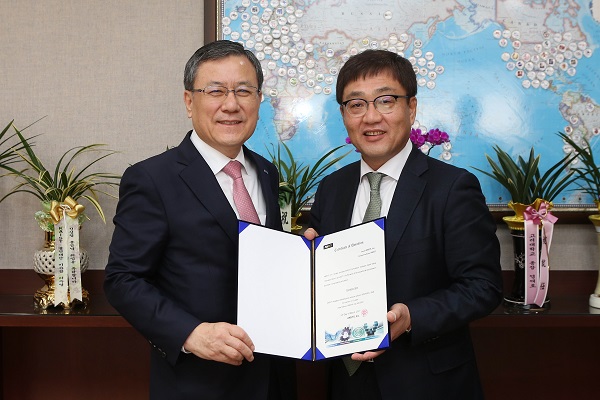 ANSYS Korea made an in-kind donation of engineering simulation software, Multiphysics Campus Solution, to KAIST on March 24. ANSYS Korea donated 10,000 copies for education and 1,000 copies for research valued at about 4 billion KRW (about 200 billion KRW commercially).
The ANSYS software will benefit the engineering simulation work in nine departments and 60 labs for three years, including the departments of mechanical engineering, aerospace engineering, electrical engineering, civil and environmental engineering, nuclear and quantum engineering, chemical and bimolecular engineering, bio and brain engineering, materials science and engineering, and the Cho Chun Shik Graduate School of Green Transportation.
ANSYS is a global engineering simulation company. It provides ANSYS CAE (Computer Aided Engineering) software products in various industries in the world as well as various support, training, and consulting services. Deemed an exemplary model of university-industry R&D collaboration especially in the Industry 4.0 era, their donation will help create the best engineering education environment possible at KAIST.
ANSYS's multi-physics campus solution is a comprehensive software suite that spans the entire range of physics, providing access to virtually any field of engineering simulation that a design process requires. It expands the fields of fluids, structures, electromagnetics, and semiconductors. Undergraduates use it to learn physics principles and gain hands-on, real-world experience that can lead to a deeper understanding of engineering concepts. Postgraduate researchers apply simulation tools to solve complex engineering problems and produce data for their theses.
"Engineering simulations are playing a stronger role in science and engineering. ANSYS software will help our undergraduates and our researchers learn the principles of physics and deepen their understanding of engineering concepts. We hope this will serve as an instrumental tool for multidisciplinary studies, critical to fostering our students," said President Sung-Chul Shin.
ANSYS Korea CEO Yong-Won Cho added, "We sincerely hope our software will help KAIST students and researchers experience the best engineering education and achieve significant research results."
(Photo caption: President Shin (left) poses with ANSYS Korea CEO Yong-Won Cho at the donation ceremony on March 24 at KAIST)