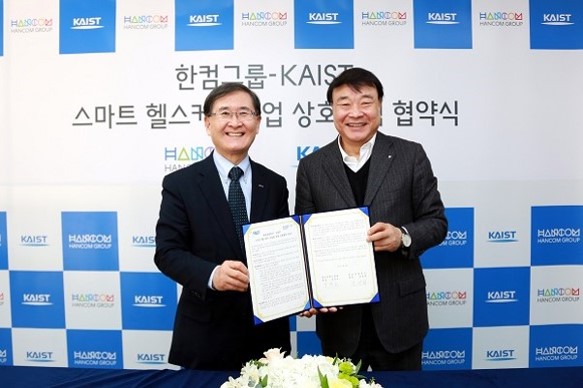 President Sung-Mo Kang signed an agreement on January 25 with Hancom Group Chairman Sang Chul Kim to establish a smart healthcare complex in Gapyeong, Kyonggido. With the Gapyeong complex launch, KAIST will come to commercialize Dr. M system along with other Dr.M consortium members as a new growth engine to drive the smart health industry.
Dr. M is a smart healthcare platform developed by the Health Science Research Institute at KAIST in 2014. Dr. M is capable of analyzing and predicting diseases, as well as prescribing, by incorporating ICT and medical technologies. Dr. M applies diverse technologies such as healthcare sensors, wearable devices, low-power communications technology, and cloud and big data collection platforms.
Hancom Group, a leading computer software company in Korea, has participated in the project since 2015 for advancing the smart healthcare market by developing mobile healthcare software program. Hancom joined the Dr.M consortium launched last November.
(President Kang (left) poses with Hancom Chairman Kim after signing.)