On November 11, 2016, students from KAIST's Aerospace Engineering Department won the Minister's Award of Trade, Industry and Energy of Korea at the 14th Research Paper Competition hosted by Korea Aerospace Industries (KAI). The award came with a cash prize of USD 1,200 as well as opportunities to visit international airshows held abroad.
The KAIST students' paper introduced a novel design concept for "a virtual-fighter-pilot system for unmanned combat aerial vehicles to enable them to engage in mass aerial combat."
This was one of the two highest honors given to contestants. A group of students from Korea Aerospace University received the other grand prize from the Minister of Land, Infrastructure and Transport of Korea.
The KAIST team consisted of two doctoral students, Hee-Min Shin and Jae-Hyun Lee, and one Master's student, Hyun-Gi Kim. Their advisor, Professor "David" Hyunchul Shim, received the Special Achievement Award for his contribution to the paper.
KAI's competition was established in 2003 to spur academic interest and research in aerospace engineering. Over the past 14 years, contestants have submitted 376 papers, and KAI has published 88 papers. KAI has positioned itself as the host of one of the most prestigious research paper competitions held in Korea in the area of aerospace engineering.
The Korean Society for Aeronautical and Space Sciences, the Korea Aerospace Industries Association, and the Korea Civil Aviation Development Association also sponsored the competition, with the Ministries of Trade, Industry and Energy and of Land, Infrastructure and Transport.
Professor Shim said, "This represents a great honor for our students. In recent years, research in unmanned aerial systems has increased tremendously throughout the world, and I hope KAIST will continue to inspire and innovate research in this field."
Pictured from left to right are Hee-Min Shin, Jae-Hyun Lee, and Hyun-Gi Kim.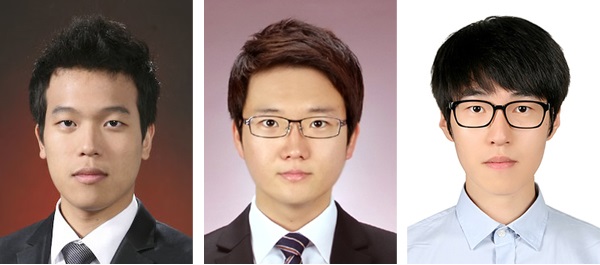 Pictured from right to left are Professor Hyunchul Shim, Hyun-Gi Kim, Hee-Min Shin, and Vice President Sung-Sup Chang of Korea Aerospace Industries.