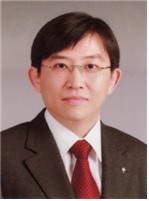 Professor Sang Ouk Kim of the Department of Materials Science and Engineering, KAIST, received the Scientist of the Month Award in June 2014 for his development of a fundamental technology that allows free control of the properties of carbon-based materials.
Since June 1997, the Korean government has awarded monthly one scientist working in industry, universities, or research institutions to recognize his or her research achievements, as well as to promote science and technology.
Professor Kim implemented a technique known as doping, which has been used in ordinary semiconductor processes, to demonstrate the physical properties of carbon-based materials. Carbon nanotubes, graphene, and other carbon materials have superior mechanical and electrical properties and are regarded as next-generation materials. However, difficulty in controlling their qualities has made applications in various devices unfavorable. The doping technique in semiconductor production is to artificially introduce impurities into an extremely pure semiconductor for the purpose of modulating its electrical properties.
Profess Kim doped elements like nitrogen and boron to enable minute control of the physical properties of carbon-based materials and applied the technique to development of organic solar cells, organic light-emitting devices, and flexible memory. He also increased the application range by using a self-assembly method to change freely the structure of carbon-based materials.
Professor Kim has published 53 papers in renowned journals such as Advanced Materials and Nanoletters. He was rewarded further by being invited to write a review paper for the 25th anniversary special edition for Advanced Materials.