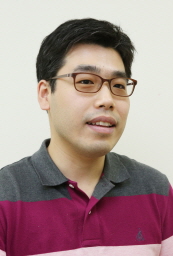 Dr. Tae-Woo Park
The academic community recognizes the study in games as a field for research
Dr. Tae-Woo Park, a graduate of KAIST, has been appointed a professor at Michigan State University (MSU) in East Lansing. He will start working in August at the Department of Telecommunications, Information Studies, and Media, the College of Communications Arts, MSU.
Dr. Park received a doctoral degree in games, the first of its kind in KAIST. His research focus is game design, research, and development.
Dr. Park has strived to enhance user experience by incorporating various aspects of everyday life into games and made efforts to introduce measures limiting or preventing game addiction, a major concern among young people in South Korea. Professor Joon-Hwa Song of Computer Science at KAIST, Dr. Park's advisor, commented that "KAIST graduates have been the main actors in the development of Korea's gaming industry. Our efforts to systemize the field of games into an academic discipline have been recognized through Dr. Park's appointment."
Dr. Park said that he plans "to apply mobile device and ubiquitous technology and develop games that will not only entertain users but also help them have a better life."