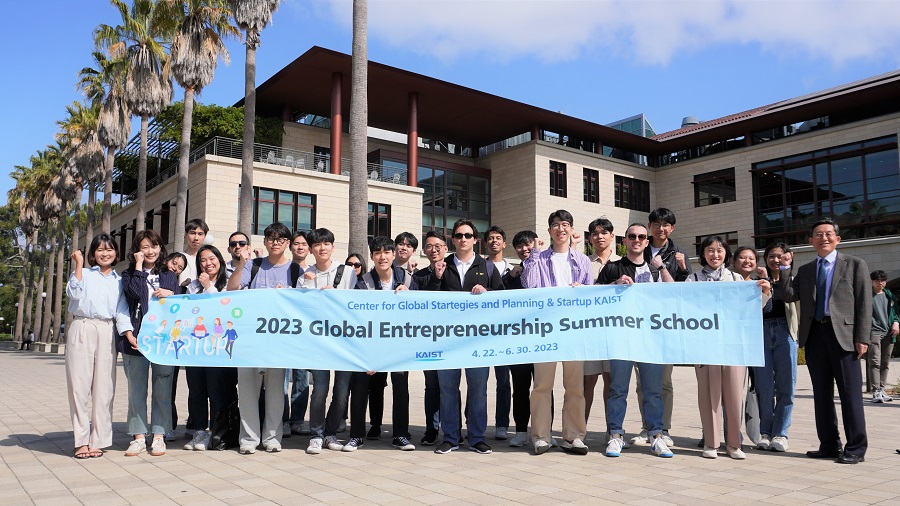 < 2023 Silicon Valley Global Entrepreneurship Summer School Participants >
The 2023 KAIST Global Entrepreneurship Summer School (GESS) was successfully held. Co-hosted by the Center for Global Strategies and Planning (GSP) (Director Man-Sung Yim) and the Startup KAIST (Director Hyeonmin Bae), the 2023 KAIST GESS was the second one of the summer programs, repeating the Silicon Valley global entrepreneurship bootcamp of 2022 (2022 GESC), based on industry-academia collaboration. This program was designed to provide students with the opportunity to visit Silicon Valley, the global hub of entrepreneurship, and personally experience the Silicon Valley culture while developing human networks that would serve as a foundation for their overseas startup development.
A total of 20 participants were selected earlier this year, including potential KAISTian entrepreneurs and early-stage entrepreneurs from KAIST within one year of incorporation. In particular, a number of foreign students of various nationalities such as Vietnam, Azerbaijan, Honduras, Indonesia, Philippines, and Kazakhstan, increased significantly, demonstrating the enthusiasm for entrepreneurship across national boundaries along with the program's growing international status. This year's event was also open to 20 Impact MBA and Social Entrepreneur (SE) students from KAIST's College of Business for the Silicon Valley program.
For the past two months, the participants have trained on business model development and pitching at KAIST's main campus in Daejeon. From June 21st to the 30th, they visited the campuses of leading universities, such as, Stanford University, UC Santa Cruz, and UC Berkeley, as well as KOTRA Silicon Valley Trade Center (Manager Hyoung il Kim), and local alumni companies and Apple company to experience the global technology startups. The start-ups by KAIST alums including B Garage (CEO Aiden Kim), ImpriMed (CEO Sungwon Lim), Medic Life Sciences (CEO Kyuho Han), and VESSL AI (CEO Jaeman Ahn) participated in the program and gave lectures and company tours to inspire the participants to have passion to take on the entrepreneurial endeavors and challenges.
On the last day, the participants gave presentations on their team's business items in front of local venture capitalists in Silicon Valley. After receiving continuous coaching from Silicon Valley's professional accelerators through remote video conferencing and face-to-face mentoring for the last two months, the participants developed their business models and presented their creative and innovative ideas, revealing their potential as future global entrepreneurs. At the final competition, Team Sparky that developed "Snoove" won the first prize. Snoove is a scientifically-proven mattress accessory that applies mild vibration to the mattress to aid users in achieving better sleep, a method previously used to soothe infants.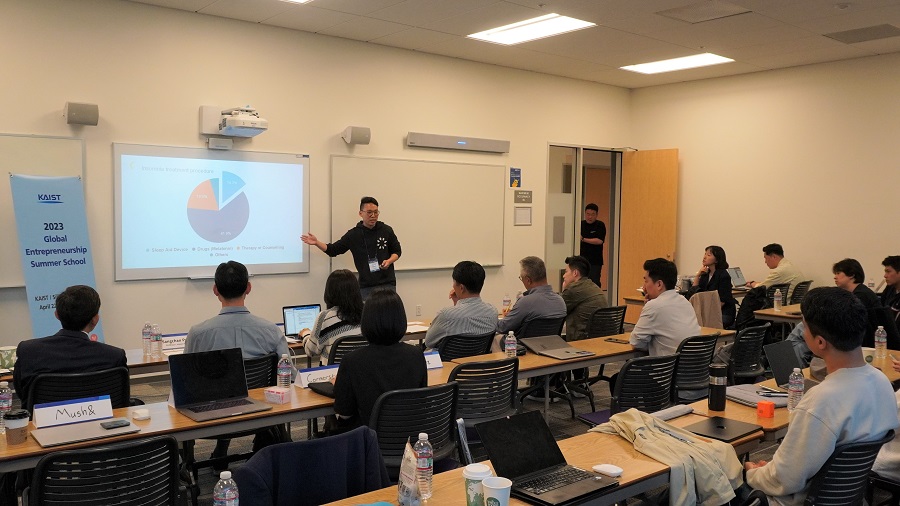 < GESS Pitching Day Presentation >
Kevin Choi from the Team Sparky said, "Seeing and experiencing the realities of entrepreneurship in Silicon Valley, a global startup scene, made me think about the importance of unlearning, challenging, and failing to be a global entrepreneur who contributes to our society." Man-Sung Yim, the Associate Vice President of the International Office, who organized the event added, "Through this experience, we expect KAIST students to grow to become global leaders who would create global values and enhance the international reputation of our university."
Meanwhile, the GSP and Startup KAIST commented that they will to continue to develop the KAIST GESS program to foster prospective entrepreneurs who can compete in the global market based on the success of this program.