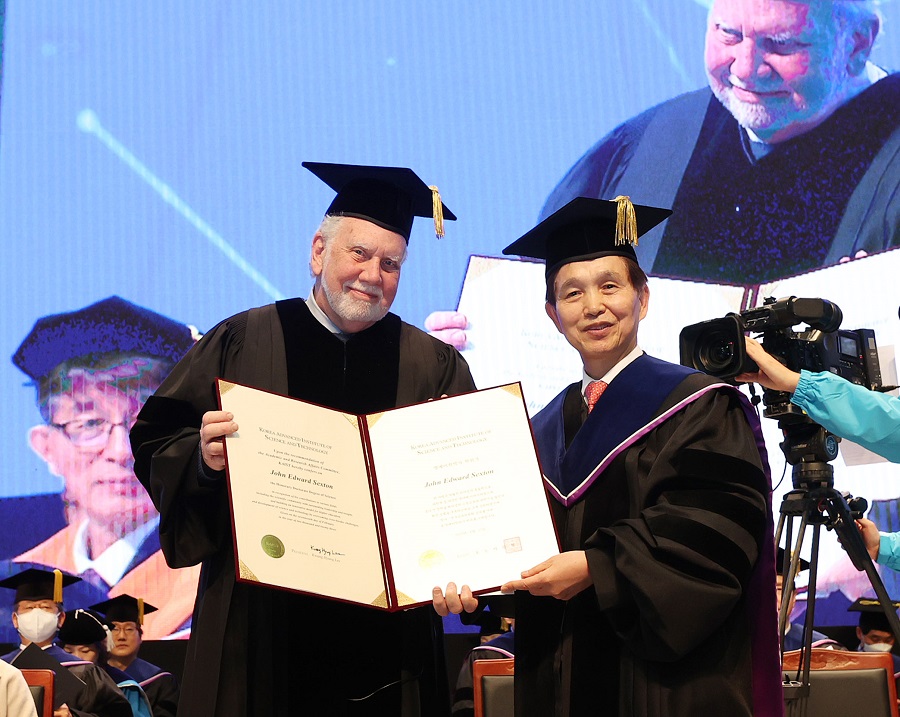 < Photo 1. NYU President Emeritus John Edward Sexton posing with KAIST President Kwang Hyung Lee holding the Honorary Doctorate at the KAIST Commencement Ceremony >
KAIST (President Kwang Hyung Lee) announced that it conferred an honorary doctorate of science degree on NYU President Emeritus John Edward Sexton at the Commencement Ceremony held on the 17th.
An official from KAIST explained, "KAIST is conferring an honorary doctorate for President Sexton's longstanding leadership in higher education, and for his contributions to the process of establishing the groundwork for collaboration with NYU through which KAIST is to become a leading global value-creating university."
President Emeritus Sexton served as the president of NYU from 2002 to 2015, establishing two degree-granting campuses and several global academic sites of NYU around the world. Because of its steady rise in university rankings, such as its medical school earning the number two position in the United States, not only has NYU joined the ranks of first-class universities, but it has also achieved remarkable growth, with the number of students increasing dramatically from 29,000 to 60,000.
In addition, during his tenure as president at NYU, President Emeritus Sexton successfully expanded fundraising to support the University's academic goals. During his 14-year tenure as president, he organized initiatives such as 'Raise $1 Million Every Day' and 'Call to Action' to raise $4.9 billion in donations, the largest in NYU history to date.
President Emeritus Sexton is famous for teaching full time even during his presidential tenure and for the anecdotes about his special care for students, addressing the school members as "family". In particular, he is famous for giving hugs to all graduates at the commencement ceremony. Minister Park Jin of the Ministry of Foreign Affairs of Korea, who graduated from NYU School of Law in 1999 with a Master of Studies in Law, is one of the graduates who received President Sexton's hug.
President Emeritus Sexton, born in 1942, visited KAIST on the 17th to receive the honorary doctorate and to encourage the expedited development of the KAIST-NYU Joint Campus, for which he helped lay the foundation.
President Emeritus Sexton said, "I like the slogan, 'Onward and upward together,'" and added, "I look forward to having the two universities achieve their shared vision of becoming the world-class universities together through cooperation to establish the KAIST-NYU Joint Campus."
< Photo 2. NYU President Emeritus John Edward Sexton giving the acceptance speech at the KAIST Commencement Ceremony >
The US Ambassador to Korea, the Honorable Philip Goldberg, also attended the commencement ceremony at KAIST to congratulate President Emeritus Sexton on the conferment of the honorary doctorate. Ambassador Goldberg has been serving as the US Ambassador to Korea since July of last year.
President Kwang Hyung Lee said, "President Emeritus Sexton was a president best described as an innovator who promoted diversity in education and pursued academic excellence throughout his life." He went on to say, "The KAIST-NYU Joint Campus, which will be completed on the foundation laid by President Emeritus Sexton, will serve as the focal point that will attract global talents flooding into New York by the driving force created from the synergy of the two universities as well as serving as a starting point for KAIST's outstanding talents to pursue their dreams toward the world."
KAIST signed a cooperation agreement with NYU in June of 2022 to build a joint campus, and held a presentation of signage for the KAIST-NYU Joint Campus in September. Currently, about 60 faculty members are planning to begin joint research initiatives in seven fields, including robotics, AI, brain sciences, and climate change. In addition, cooperation in the field of education, including student exchange, minors, double majors, and joint degrees, is under discussion.