World-renowned master of stained-glass Father En Joong Kim was appointed to a two-year distinguished invited professorship in the KAIST Department of Industrial Design starting August 1, 2022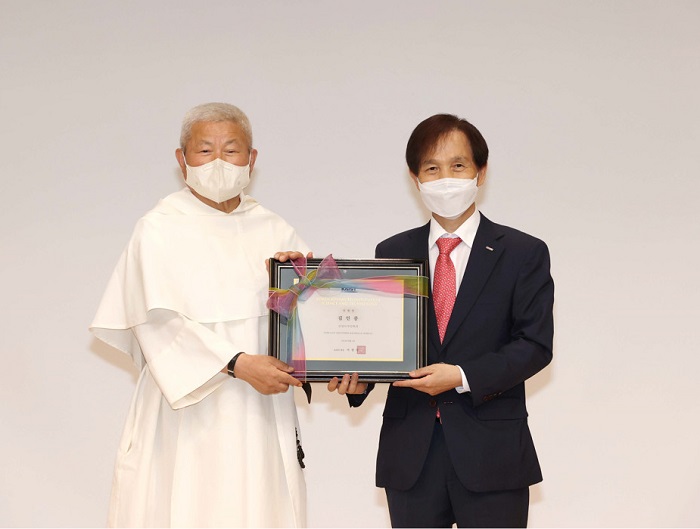 - Fr. Kim will share his life, spirit, and artistic capabilities with the members of KAIST through special lectures for undergraduate and graduate students, and through a stained-glass piece he will work on and donate to the KAIST Academic and Cultural Complex
- The 53-piece work of art will provide KAIST with fresh inspiration and add to its dynamic atmosphere
KAIST appointed the world-renowned stained-glass artist and priest Fr. En Joong Kim of the Dominican Order as a distinguished invited professor in the KAIST Department of Industrial Design. His term starts from August 1 of this year and ends on July 31, 2024.
The appointment aims to share the life, spirit, and artistic capabilities of Fr. Kim, who is internationally recognized for his creative work. The purpose of the appointment is not only to provide professional advice on lighting color and space, which are core contents of industrial design courses, but also to bring new inspiration to KAIST community.
Fr. Kim, who studied in the College of Fine Arts at Seoul National University, won the Korean Art Award in 1965, and later studied at the University of Fribourg in Switzerland and the Catholic University of Paris. Joining the Dominican Order in France in 1974, he started his career as both a priest and an artist, and continued his artistic activities via 200 exhibitions around the world and by working on the stained-glass windows of 50 European churches.
In recognition of the artistic merit of combining colorful tones with the beauty of blank spaces, a distinctive characteristic of Asian art, and Fr. Kim's contributions to establishing such combinations, Passage Kim En Joong, an art gallery, was founded in Ambert, France in 2019, and for his artwork installed all over France, he was presented with the insignia of Officer in the Order of Arts and Letters by the French government in 2010.
Following the appointment, the KAIST Department of Industrial Design is preparing a special seminar lecture by Fr. Kim under the title "Search the Future". Fr. Kim will share his experience and philosophy for pursuing aesthetic values and efforts. In addition, the department plans to set up a special studio for Fr. Kim to both work and interact with students, encouraging them to naturally communicate and share ideas together.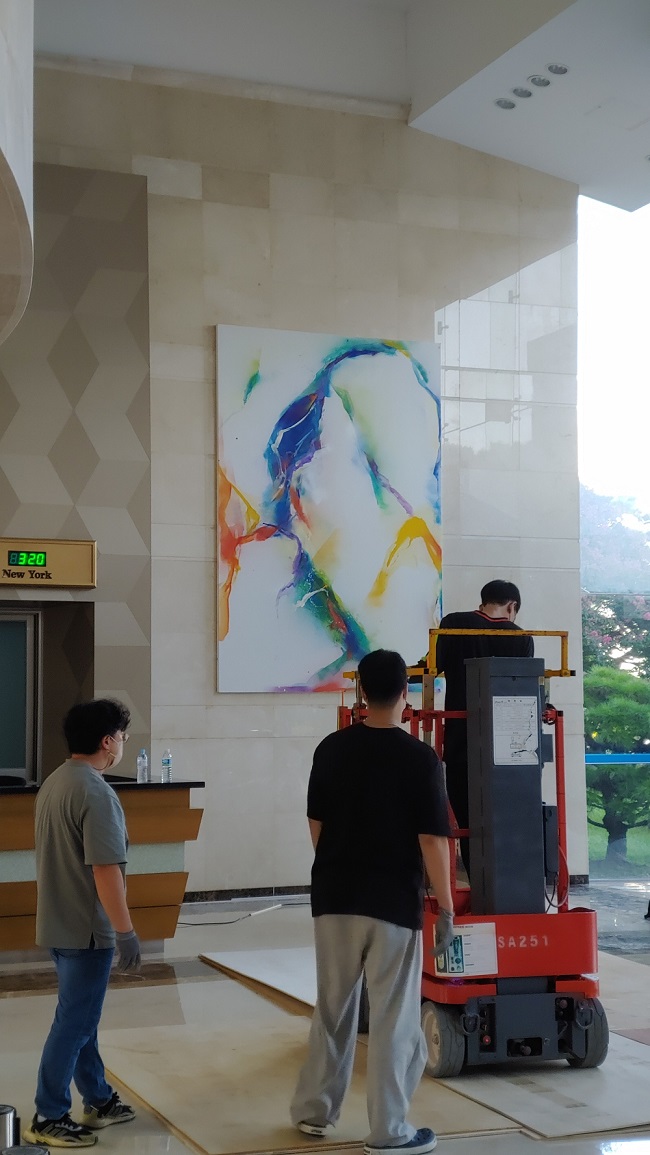 One of Fr. Kim's art piece being installed at the main administration building at KAIST.
In a studio at the KAIST Academic Cultural Complex (ACC), Fr. Kim is currently working on his 53-piece stained-glass project that, when finished, will be added to the ACC. KAISTians will be able to enjoy a master's art on a daily basis as the 53 sheets of glasses combine to form one magnificent piece.
Fr. Kim said, "I am very happy to be a distinguished invited professor at KAIST, where excellent scientists are at work. It is my wish and prayer that my presence here may comfort the students' hearts with artwork and art philosophy that carries sensitivity and sincerity, and that they may garner richer experiences."
KAIST President Kwang Hyung Lee said, "The purpose of research and art are similar in that they pioneer through endless contemplations and attempts. The art piece to be installed at ACC, which will combine 53 pieces of stained glass, resembles our school, where our members each with their own distinctive colors and textures come together create a harmonious new form known as KAIST."
He added, "I hope that the artistic spirit of Fr. Kim, a world-class master, will be a beacon that would bring a new type of stimulation and ease here at KAIST"
KAIST also appointed world-renowned soprano Sumi Jo as a distinguished invited professor in the Graduate School of Culture Technology in October 2021, and SM Entertainment's executive producer Soo-man Lee as a distinguished invited professor in the School of Computing in March 2022. KAIST continues to expand and incorporate science and technology into the fields of art and culture, and to establish itself as a place for joint research and creative endeavors.