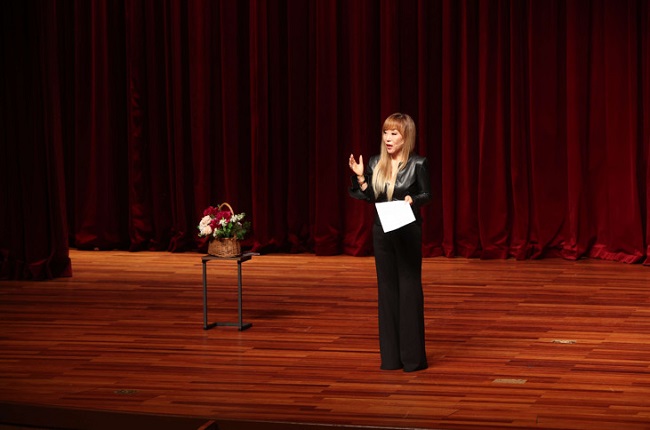 < Distinguished visiting scholar soprano Sumi Jo gave a special lecture on May 13 at the KAIST auditorium >
< Professor Jo also opened the Sumi Jo Performing Arts Research Center on the same day along with President Kwang Hyung Lee and faculty members from the Graduate School of Culture Technology >
Distinguished visiting scholar soprano Sumi Jo gave a special lecture on May 13 at the KAIST auditorium. During the lecture, she talked about new technologies that will be introduced for future performing art stages while sharing some of the challenges she experienced before reaching to the stardom of the world stage. She also joined the KAIST student choral club 'Chorus' to perform the KAIST school song.
Professor Jo also opened the Sumi Jo Performing Arts Research Center on the same day along with President Kwang Hyung Lee and faculty members from the Graduate School of Culture Technology. The center will conduct AI and metaverse-based performing art technologies such as performer modeling via AI playing and motion creation, interactions between virtual and human players via sound analysis and motion recognition, as well as virtual stage and performing center modeling. The center will also carry out extensive stage production research applied to media convergence technologies.
Professor Juhan Nam, who heads the research center, said that the center is seeking collaborations with other universities such as Seoul National University and the Korea National University of Arts as well as top performing artists at home and abroad. He looks forward to the center growing into a collaborative center for future performing arts.
Professor Jo added that she will spare no effort to offer her experience and advice for the center's future-forward performing arts research projects.