President-Elect Yoon stresses science and technology-powered economic growth during his visit to KAIST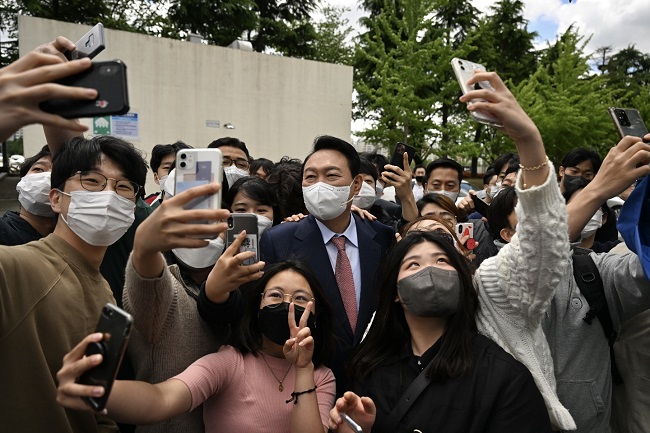 < President-elect Yoon poses with KAIST students on April 29 during his visit to KAIST. >
Korean President-elect Suk-Yeol Yoon stressed that semiconductors are the key strategical industry that will take the lead during the fourth industrial revolution powered by AI and data during a meeting with KAIST graduate students on April 29. President-elect Yoon promised systemic policy support for making science and technology breakthroughs possible and better rewarding young researchers who are devoted to advances in R&D during his meeting at KAIST.
Before he met with the students, he toured the National Nanofab Center, which is affiliated with KAIST, and was briefed on the center's role and responsibilities.
President-elect Yoon, who will take office on May 10, said that the best way to ensure prompt growth in Korea's aging society hinges on advances in science and technology. "All-out investments in science and technology will help us move forward to improve people's quality of life and lessen the social divide," he explained.
Eight Master's and PhD candidates majoring in nuclear engineering, AI robotics, semiconductors, electrical engineering, aerospace, and bioengineering attended the meeting with President-elect Yoon. The students asked for help dealing with the challenges they are experiencing while researching and called for deregulation in the process of forming startups.
PhD candidate Jae Wan Cho from the Department Nuclear and Quantum Engineering stressed the importance of energy security. He asked for the prompt development of new types of nuclear reactors such as small modular reactors, adding, "Korea has very excellent technologies in nuclear plant construction and parts manufacturing, but lags behind in the new types of nuclear reactors. This sector will develop new energy markets and create synergy along with the shipbuilding industry, which will emerge as new pillars of our export."
Student entrepreneurs such as PhD candidate Kwang Min Kim from the Department of Bio and Brain Engineering and PhD candidate Dong Yoon Shin from the Department of Mechanical and Aerospace Engineering asked for more deregulation in the process of creating startups. PhD candidate Dong Hon Lee from the School of Electrical Engineering pointed out the insecure future caused by the 'special research fellow system,' where the number of fellows who have been designated alternative military service has drastically decreased.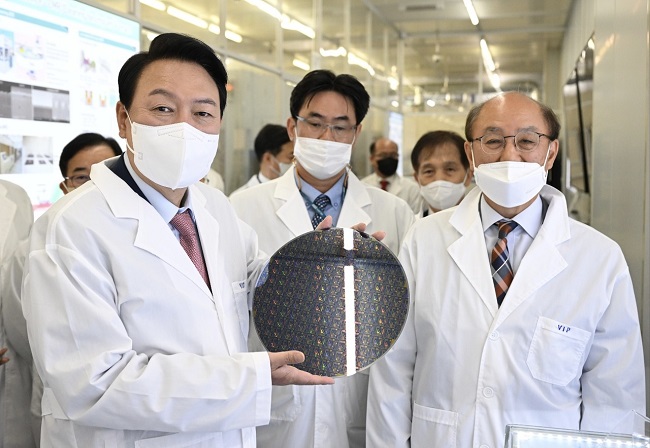 < Before he met with the students, he toured the National Nanofab Center, which is affiliated with KAIST >