Distinguished Visiting Scholar Soprano Sumi Jo Accompanied by AI pianist 'VirtuosoNet' during the Special Concert at KAIST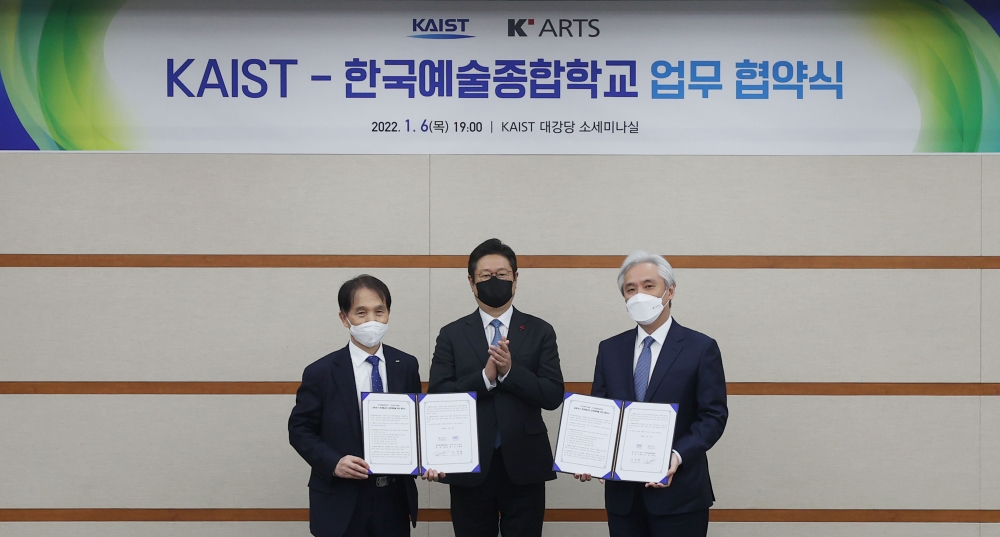 < President Kwang Hyung Lee, Minister of Culture, Sports, and Tourism Hee Hwang, and KNUA President Daejin Kim (from left) pose after the MOU ceremony. >
KAIST will expand the convergence of arts education and culture technology research in collaboration with the Korea National University of Arts (KNUA), the nation's top arts university. KAIST President Kwang Hyung Lee signed an MOU with President Daejin Kim of the Korea National University of Art on January 6 at KAIST's Daejeon campus for collaborations in arts education and research.
KAIST and KNUA will expand educational programs such as student exchanges and co-credit programs. The two universities will team up for cooperation focusing on research centers and academic conferences for the creation of culture technology and convergence arts.
Minister of Culture, Sports, and Tourism Hee Hwang also attended the ceremony. Minister Hwang said that the Ministry will invest 132 billion KRW in R&D for developing metaverse and content technologies. He added that this collaboration will be a very meaningful turning point for creating a new culture combining high-level technologies.
< Soprano Sumi Jo, Distinguinshef Visiting Scholar at the Graduate School of Culture Technology performs at the special concert on January 6. >
President Kim also expressed his expectations saying, "The collaboration of our two universities will generate a huge synergistic impact for nurturing talents and the creation of convergence arts.
President Lee said that the collaboration with KNUA will take KAIST another step forward as it aims to foster well-rounded talents. "We look forward to proactive collaborative research that will expand the new chapter of convergence arts and future stage performances."
Right after the signing ceremony, world renowned soprano Sumi Jo, who was named a Distinguished Visiting Scholar, took the KAIST auditorium stage for a special concert. AI pianist 'VirtuosoNet', developed by Professor Juhan Nam at the Graduate School of Culture Technology, made its debut at the concert by playing Mozart's Turkish March arranged by Arcardi Volrodos. VirtuosoNet also accompanied Soprano Jo on one of her songs.
The concert by Sumi Jo and AI pianist VirtuosoNet heralds what KAIST is pursuing for education and research in culture technology. The Graduate School of Culture Technology plans to conduct research on future culture industries combined with technologies for the metaverse. The Sumi Jo Performing Arts Research Center will conduct research on performing technologies together with virtual artists. Head of the Graduate School of Culture Technology Woontack Woo said that KAIST will expand the sphere of the culture industry including tourism in collaboration with KNUA by incorporating technology into arts.