The GSI Forum 2021 will explore the potential of new metaverse technologies that will change our daily lives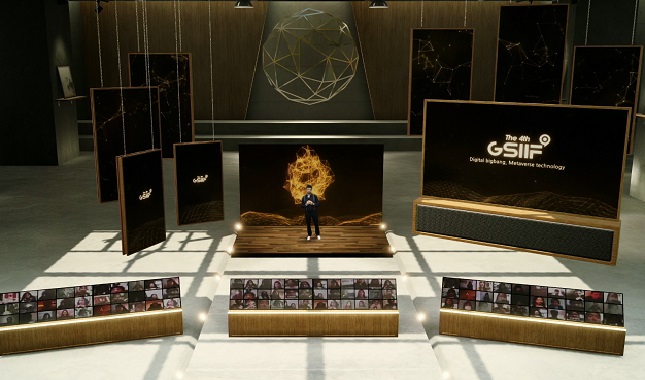 < The GSI Forum 2021 will be held on Sept. 8 at 9:00 KST via the KAIST YouTube channel. >
KAIST will be hosting a live online international forum on Sept.8 at 9 am (KST) through its KAIST YouTube channel. The forum will explore global trends regarding metaverse technology innovations and applications and discuss how we can build a new technology ecosystem.
Titled `Digital Big Bang, Metaverse Technology,' the Global Strategy Institute-International Forum 2021 will be the fourth event of its kind, following the three international forums held in 2020. The forum will delve into the development trends of metaverse platforms and AR/VR technologies and gather experts to discuss how such technologies could transform multiple aspects of our future, including education.
President Kwang Hyung Lee explains in his opening remarks that new technologies are truly opening a new horizon for our lives, saying, "In the education sector, digital technology will also create new opportunities to resolve the longstanding pedagogical shortfalls of one-way knowledge delivery systems. New digital technologies will help to unlock the creativity of our students. Education tailored to the students' individual levels will not only help them accumulate knowledge but improve their ability to use it. Universities around the world are now at the same starting line. We should carve out our own distinct metaverse that is viable for human interactions and diverse technological experiences that promote students' creativity and collaborative minds."
Minster of Science and ICT Hyesook Lim will introduce how the Korean government is working to develop metaverse industries as a new potential engine of growth for the future in her welcoming remarks. The government's efforts include collaborations with the private sector, investments in R&D, the development of talent, and regulatory reforms. Minister Lim will also emphasize the importance of national-level discussions regarding the establishment of a metaverse ecosystem and long-term value creation.

< From left: KT Vice President Kidong Bae, co-Founder & CPO at Spatial Jinha Lee, Professor Frank Steinicke from the University of Hamburg, Marco Tempest from MIT Media Lab. >
The organizers have invited global experts to share their knowledge and insights.
Kidong Bae, who is in charge of the KT Enterprise Project and 'Metaverse One Team' will talk about the current trends in the metaverse market and their implications, as well as KT's XR technology references. He will also introduce strategies to establish and utilize a metaverse ecosystem, and highlight their new technologies as a global leader in 5G networks.
Jinha Lee, co-founder and CPO of the American AR solution company Spatial, will showcase a remote collaboration office that utilizes AR technology as a potential solution for collaborative activities in the post-COVID-19 era, where remote working is the 'new normal.' Furthermore, Lee will discuss how future workplaces that are not limited by space or distance will affect our values and creativity.
Professor Frank Steinicke from the University of Hamburg will present the ideal form of next-generation immersive technology that combines intelligent virtual agents, mixed reality, and IoT, and discuss his predictions for how the future of metaverse technology will be affected.
Marco Tempest, a creative technologist at NASA and a Director's Fellow at the MIT Media Lab, will also be joining the forum as a plenary speaker. Tempest will discuss the potential of immersive technology in media, marketing, and entertainment, and will propose a future direction for immersive technology to enable the sharing of experiences, emotions, and knowledge.
Other speakers include Beomjoo Kim from Unity Technologies Korea, Professor Woontaek Woo from the Graduate School of Culture Technology at KAIST, Vice President of Global Sales at Labster Joseph Ferraro, and CEO of 3DBear Jussi Kajala. They will make presentations on metaverse technology applications for future education.
The keynote session will also have an online panel consisting of 50 domestic and overseas metaverse specialists, scientists, and teachers. The forum will hold a Q&A and discussion session where the panel members can ask questions to the keynote speakers regarding the prospects of metaverse and immersive technologies for education.
GSI Director Hoon Sohn stated, "KAIST will seize new opportunities that will arise in a future centered around metaverse technology and will be at the forefront to take advantage of the growing demand for innovative science and technology in non-contact societies. KAIST will also play a pivotal role in facilitating global cooperation, which will be vital to establish a metaverse ecosystem."