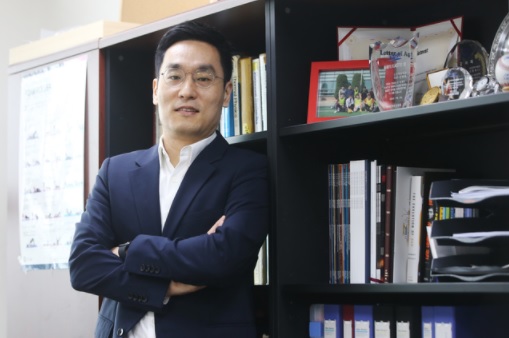 < Professor Byungha Shin >
Professor Byungha Shin from the Department of Materials Science and Engineering won the Scientist of the Month Award presented by the Ministry of Science and ICT (MSIT) and the National Research Foundation of Korea (NRF) on May 4. Professor Shin was recognized for his research in the field of next-generation perovskite solar cells and received 10 million won in prize money.
To achieve 'carbon neutrality,' which many countries across the globe including Korea hope to realize, the efficiency of converting renewable energies to electricity must be improved. Solar cells convert solar energy to electricity. Since single solar cells show lower efficiency, the development of 'tandem solar cells' that connect two or more cells together has been popular in recent years.
However, although 'perovskite' received attention as a next-generation material for tandem solar cells, it is sensitive to the external environment including light and moisture, making it difficult to maintain stability.
Professor Shin discovered that, theoretically, adding certain anion additives to perovskite solar cells would allow the control of the electrical and structural properties of the two-dimensional stabilization layer that forms inside the film. He confirmed this through high-resolution transmission electron microscopy. Controlling the amount of anions in the additives allowed the preservation of over 80% of the initial stability even after 1000 hours of continuous exposure to sunlight.
Based on this discovery, Professor Shin combined silicon with solar cells to create a tandem solar cell with 26.7% energy convergence efficiency. Considering that the highest-efficiency tandem solar cell in existence showed 29.5% efficiency, this figure is quite high. Professor Shin's perovskite solar cell is also combinable with the CIGS (Cu(In,Ga)Se2) thin-film solar cell composed of copper (Cu), indium (In), gallium (Ga), and selenium (Se2).
Professor Shin's research results were published in the online edition of the journal Science in April of last year.
"This research is meaningful for having suggested a direction for solar cell material stabilization using additives," said Professor Shin. "I look forward to this technique being applied to a wide range of photoelectrical devices including solar cells, LEDs, and photodetectors," he added.
(END)